"More must be done to encourage young men to consider a career in the care sector," says Jarred Stansfield, a 20-year-old care assistant in Surrey and one of Anchor's youngest employees.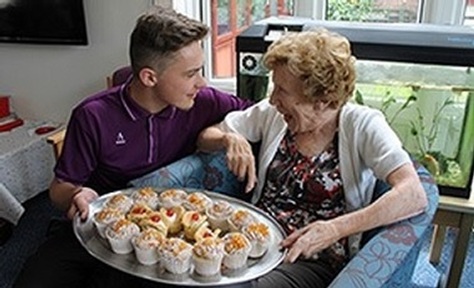 Having left college at 17, Mr Stansfield flitted between different jobs for two years before finding a role he says has helped him "find direction in life" – a care worker at Anchor's Heathside care home in Coley Avenue, Woking.
After making such a difference to the lives of older residents in the six months that he's been a care worker, Mr Stansfield has been chosen to lead a campaign in Surrey to address the chronic shortage of male care workers across the sector.
'Unlike other jobs, I don't dread going into work'
He said: "My other jobs had no meaning to them and I wasn't helping anyone but care is completely different. Unlike other jobs, I don't dread going into work. Anyone from all walks of life can do this job as long as they have empathy for older people because you are supported all the way.
"Although there are easier jobs, the level of satisfaction I get every day makes up for the challenges you sometimes face. And as there's lots of overtime and flexible working hours, which would be good for any university students balancing paid work with studying, it means I have a good social life too."
Anchor commissioned a survey which found that by 2025 there will be a shortfall of one million care workers across the country needed to look after Britain's ageing population.
As it stands, the care sector is heavily dominated by female workers, with men making up just 15.3 per cent of the workforce. But whilst many people think care is a woman's job, Mr Stansfield believes that this "couldn't be further from the truth."
He said: "As people are living longer, more men are going into care so many of them prefer to be looked after by a male carer. Society used to think nurses were just women and that has changed. I hope this campaign will open young men's eyes to the great opportunities care has as a career."
Developing the next generation of care staff
Anchor, England's largest not-for-profit provider of care and housing for older people, is committed to developing the next generation of care staff, offering a range of training courses and opportunities for employees to acquire new skills.
It is this training that has helped Mr Stansfield better understand dementia, a condition which affects 850,000 people in the UK.
He commented: "I didn't know much about dementia and I was worried about how I could help someone with this condition but the training has helped me understand how it affects people in different ways.
"In fact, an example of how I've made a difference to an older person's life concerns a resident with advanced dementia who can't communicate that well but has still retained her sense of humour. Her family told my manager I was the only carer she has ever bonded with because I spend a lot of time talking and laughing with her even though she can't speak."
Mr Stansfield has revealed that eventually he would like to manage his own care home.
"I really want to stick to this job because you can make such a difference to the most vulnerable people in society," he said. "This job isn't just a stepping stone but a milestone in my life."
carehome.co.uk jobs
Chair of carehome.co.uk jobs, Davina Ludlow, advises both nurses and care workers looking for a job and care homes wishing to recruit care staff to use the carehome.co.uk jobs board, which lists over 4,000 care home and nursing home jobs in the UK.
She said: "carehome.co.uk jobs has a wide selection of health, nursing and social care jobs ranging from posts for managers to nurses as well as care home chefs and gardeners.
"With a database of over 50,000 CV's from people actively seeking a job in the care sector, we also provide a valuable resource for anyone looking to recruit a care professional."
For more information on carehome.co.uk jobs go to: www.carehome.co.uk/jobs/