Older woman quizzed about their sex lives have said the chances of getting an orgasm are better in the 'twilight years' - even after 80 - than when they were younger.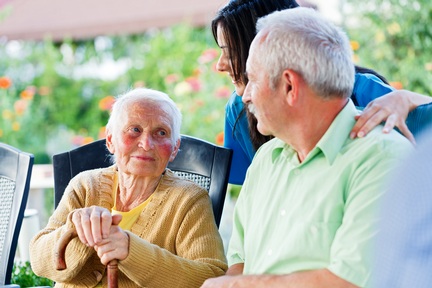 Eighty-two year-old Joyce admits her orgasms after 80 are "wonderful" and far better than when she was 20, saying: "The big difference of course is time. You can wake up and have a cup of tea and stay in bed."
Indicating that older women have a healthy sex drive, Joyce, Shirley and Dee were all in agreement, in conversation with BBC 5 Live, that their orgasms had improved since their 20s. Their comments follow a new ComRes survey conducted by the radio station which reveals one sixth of people over 70 have a roll in the sheets at least a few times every month but many are not having a sex as much as they would like.
Not having sex as much as they'd like
More than half of men (61 per cent) admitted they are not having sex as much as they want but only 21 per cent of women over 60 say they feel this way. The poll of 1,330 people over-60s revealed a minority of respondents (35 per cent) never do it at all.
Earlier this year, a report 'How long will I love you? Sex and intimacy in later life' published by the International Longevity Centre – UK (ILC-UK) in conjunction with University of Manchester, looked at 7,000 women aged over 50 and found that while difficulties in becoming aroused steadily rise in women between 50-79, they fall after the age of 80 to below levels seen in 60-69-year-olds.
From the college to the care home
At the time, Baroness Sally Greengross, chief executive, ILC-UK said: "We know that many men and women remain sexually active throughout their lives, and that intimate relationships in later life can continue to have a positive impact on overall health and well-being".
When it comes to satisfying the sexual needs of older people including those in care homes, she added ILC-UK will "continue to make the case for a life course approach to sexual health and relationships which sees advice and services available from the college to the care home".
One woman aged 70-79 years-old, said: "I think sex is very important to enjoying a happy life, whatever your age. In fact, when making love you can be any age you feel you want to be, you do not feel old."
'Improve public health'
Dr David Lee, research fellow at University of Manchester said: "By normalising conversations around sex and older people, health professionals can help to counter stereotypes and misconceptions around sex in later life, which will ultimately improve public health."
Last year, a study by McGill University in Canada suggested those having regular sex in later life have better memories helping them keep mentally alert. The academics found regular sex was connected to the growth of nervous tissue in the part of brain controlling memory.