Inspectors who visited almost 200 care homes, reveal most homes are good, however too many are in a poor state in terms of cleanliness and decor, do not have dentists visit to check oral health and have no WiFi for residents.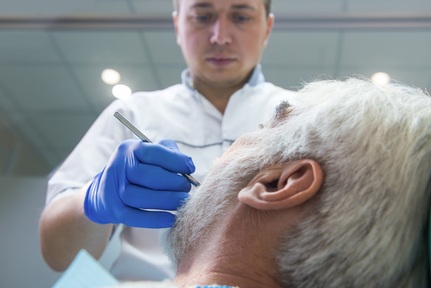 Healthwatch inspectors visited 197 care homes across England between January 2016 and April this year, across 63 local authority areas. Its report: 'What's it like to live in a care home?' has highlighted a limited use of basic technology and staffing shortages which resulted in some care homes failing to meet people's needs.
With the legal power to carry out 'enter and view' visits to care settings, staff and volunteers from Healthwatch - an independant champion of people using health and care services - talked to residents, families and staff to gather their feedback.
'Rushed off their feet'
In Healthwatch's report, Imelda Redmond, national director of Healthwatch England stated: 'According to the Care Quality Commission (CQC), four out of five care homes and home care agencies in England provide good quality care. Yet it's also clear the care sector as a whole is in a fragile state.
'On the surface what people tell us matches very closely with what the regulators find - that the vast majority of care is good. When we dig a little deeper it is clear that care home residents are also picking up on the strain the system is under, describing those same staff as being 'rushed off their feet'.'
Based on 140 local Healthwatch reports on people's experiences of the care homes which care for almost 3,500 residents, the report stated: 'The reality is that local Healthwatch are still finding examples of care homes making limited use of quite basic technology, for example some do not have a WiFi connection.'
Of the 14 reports that looked at use of technology, half found that residents had no access to the internet and so could not connect with loved ones far away or benefit from surfing the net. 'Given the drive to integrate technology within the NHS and social care we found this surprising – particularly as technology can offer low-cost activities' the inspectors stated.
Only one care home said a dentist visited regularly
Only one care home told Healthwatch visitors a dentist came regularly to see residents. Staff at one home highlighted the problems they faced getting dental care for residents, saying: "Dentist refuse (sic) to do home visit unless private. Unfair to residents that have to suffer." To try to tackle this, staff at another care home received oral health training from a dental nurse.
Healthwatch's 2016 review of what people said about dental services found access to dentists could be difficult for care home residents and this week's report stated 'this finding has been reinforced by what we have seen in our visits'.
The new report comes as dental hygienist Jane Peterson who regularly visits care homes recently spoke to carehome.co.uk warning care staff of the "potentially life-threatening conditions that poor oral health can pose on the elderly".
Some 17 local Healthwatch reports highlighted good access to GPs but nine said GP access was poor. The inspectors noted: "We saw variations in the way homes respond to residents' different needs. For example, some homes we visited didn't have dementia friendly decor, while in other homes residents weren't given support they needed to see GPs and dentists."
Deep cleans and dementia-unfriendly decor
Cleanliness was another issue for some care homes with inspectors making 11 reports recommending a deep clean for care homes. The inspectors noted: 'Our visitors also saw homes where the décor was in a poor state, or where accommodation did not suit the needs of vulnerable people.
At one care home, Healthwatch found wallpaper peeling off the wall, dead plants and rotten window sills. One resident described the setting as 'filthy'.
'Décor, in general, was an issue in a number of care homes, but 21 local Healthwatch reports on homes for older people raised specific concerns that décor was not dementia-friendly', the report stated.
'I feel I have to fit around staff times'
Some 43 local Healthwatch reports raised concerns about staffing, including staff numbers, turnover, and appropriateness of training, as well as worries that use of agency workers was affecting continuity of care.
One resident told inspectors: "I feel that I have to fit around staff times, rather than they fit around me. They are too busy...I have waited from 30-60 minutes when I have buzzed for help to go to the toilet." Another resident said: "My laundry is not always returned and is worn by others."
Inspectors said staff needed training covering areas like dementia, mental health, and Deprivation of Liberty Safeguards (DoLS). In one care home, the majority of training was e-learning which did not need to be completed on the premises, raising concerns of a risk that training could be completed by someone other than the staff member.
'System starved' leads to 'cut corners'
Jeremy Hughes, CEO at Alzheimer's Society, said: "Sadly, I'm not at all surprised by these findings. They testify to the existing issues with staff training across the sector, and echo what our investigation last year found - that one in three homecare workers had received absolutely no dementia training, resulting in people with dementia left in soiled sheets, and becoming ill after eating out-of-date food. A system starved of funding leads to cut corners and easily avoidable mistakes."
Inspectors gave care home bosses the chance to respond to recommendations, resulting in 43 care homes making 'tangible improvements' after Healthwatch visits with changes such as redecoration, refurbishment and cleaning; provision of more fruit to residents; more volunteers/befrienders to tackle loneliness; more involvement for residents in the home, for example with a residents' committee; review of activities available and more links with the community.
An extra 103 care homes acknowledged the feedback, in many cases setting out a plan of action to address concerns. However 'disappointingly' the report stated 51 of the homes visited have not responded to recommendations, raising 'important questions about how these homes are reacting to feedback from those they are caring for.'
Inspectors applauded innovations where they saw it, including one home's piloting of Telemedicine provided by a hospital, enabling a medical diagnosis to be obtained immediately (24/7) via a video link at the resident's bedside.
There are 16,354 care homes registered with the CQC in England. Healthwatch's report has called for all care homes to ensure all residents' needs are met and urges bosses to seek feedback, act on it and be open.
To read the report: 'What's it like to live in a care home?' visit www.healthwatch.co.uk