A dementia care home in Essex has come up with a novel way to prevent disorientated residents from falling during the night, and it involves illuminated toilets.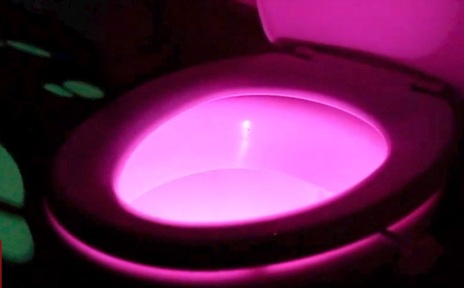 The Haven in Colchester has seen fall rates decline by 75 per cent since a scheme called 'Light your Night' was introduced earlier this year to help residents who need to get up in the night for a toilet break.
Care home manager 'overwhelmed' by scheme's response
The idea has caught the imagination of many people in the care home sector locally and more further afield. Care home manager, Ryan Moring has been 'overwhelmed' by the effect and response that the scheme has had. He said:
"The overall scheme has reduced falls by 75 per cent from this time last year. It has really, really worked; other care homes in the region have now taken it on board, we're even part of governance called the 'PROSPER project' which is an Essex County Council quality and improvement initiative to reduce hospital improvement admissions in care homes."
The Haven is a dementia home, owned by Sohal Healthcare which is about 50 per cent self-funding and 50 per cent local council funded. The care home manager sees the home as 'innovative' and is always looking for new ways to address any issues or problems that might arise on a daily basis.
Mr Moring explained why the 'Light the Night' scheme was originally adopted: "Back in January I went through all my falls reports for the past year and unusually, we had 136 falls in the care home, which is quite a lot, and after reading all the reports, I discovered 50 per cent of the falls were at night.
"I then went through all of the night time reports, and 50 per cent of those were residents trying to get to the toilets on their own at night".
Mr Moring and his staff concluded that the falls were happening because residents become confused when they awoke at night, often forgetting to switch on the light or press their alarm bells for assistance.
'As they walk into the bathroom, the toilet bowl lights up automatically'
Rather than try to make people with dementia remember to call for assistance, the team decided the best way forward was to enable residents to make the journey to the bathroom themselves. Mr Moring said: "The cook came up with the idea, saying 'we need to show them the way', and I did some research, and that's how we came up with the idea."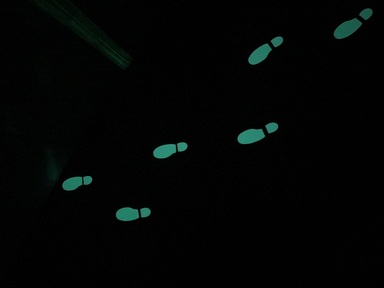 Reducing falls is high on the list for many care home managers. According to Age UK, every year, more than one in three (3.4 million) people over 65 suffer a fall that can cause serious injury or death. This equates to about six people every minute.
Many care home residents who experience a fall can also end up going into hospital for long stays, which also puts a huge amount of pressure on the hospital system.
The 'Light your Night' scheme, as devised by the Haven staff, attempts to tackle this head on with the illumination of light switches, footprints, walking frames and toilets to help residents navigate hallways, corridors, bathrooms and even their own bedrooms to prevent falls during the night.
Mr Moring insists the scheme isn't for everyone, although most residents have it in some form or another. He said:
"Some residents may have some aspect of the scheme, whilst others may have it all. There are glow in the dark footsteps which go from their bed to the bathroom. The toilet door frame is illuminous and they have a glow in the dark toilet sign on the toilet door.
"As they walk in to the bathroom, the toilet bowl lights up automatically as residents might still forget to put light switches on, even if they are illuminated."
Woman who hasn't bathed for three years 'now enjoys a weekly bath'
As a result of the success of the project, other new ideas have been introduced at The Haven, including the concept of a 'sensory bath'.
Mr Moring explained: "Some residents don't like the sensation of having a bath. It's not a nice experience for them. So, we have added scenery to the bathroom walls, and there is calming music and relaxing noises, and when they are in the bath the water changes colours. It takes their mind away from the experience of having a bath it and calms and relaxes them."
One woman who has particularly taken to the 'sensory bath' had previously not had a bath or shower for three years due to a fear of water. This fear, particularly of baths and showers is not an uncommon reaction for some dementia sufferers. The resident now 'enjoys a weekly bath' but previously 'would only have flannel washes', according to Mr Moring.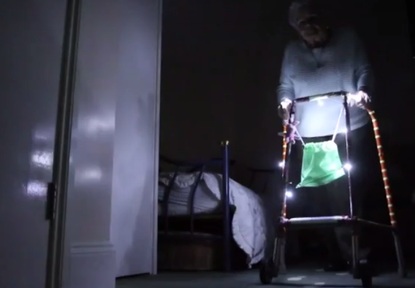 The latest project to be undertaken at the dementia home is a new indoor sensory garden, designed to help calm residents and provide a place for them to socialise.
The home has many residents that display challenging behaviours, and according to Mr Moring, they can now "go into the garden and there's a water feature to help calm them, and bird noise all the time." He continued: "It improves their life rather than us just giving them some medication; this is the least restrictive option."
However, not everything has been plain sailing for the innovative care home manager; The Haven was close to closing before he bought it, and it has been a long journey to get it to a point where the home was achieving the results he wanted.
He explained: "Our latest CQC report was 'outstanding'. In 2013, this home was about to close, and in special measures, before I took it over in December 2013, and it's taken a lot of work to get to this stage."