The areas hardest hit by dementia in the UK have been revealed in two interactive maps – with areas on the South coast among the worst affected.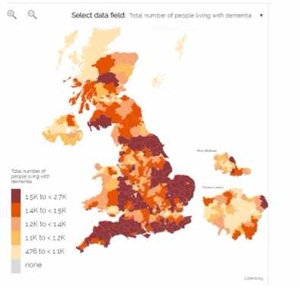 For the first time, people can see the impact of dementia in their local area and find out how their region compares to the rest of the UK, thanks to the dementia charity Alzheimer's Research UK, which created the online tool.
According to the data, coastal constituencies in the south of England have the highest number of people living with dementia per head of population – with Christchurch, in Dorset, topping the list. In Christchurch, 2,400 people have dementia, (2.8 per cent of its overall population) – which is more than double the country's average of 1.3 per cent.
The top five constituencies with the highest level of dementia per head of population are:
• Christchurch: 28 per 1,000 people.
• New Forest West: 27 per 1,000 people.
• North Norfolk: 24 per 1,000 people.
• Clacton: 24 per 1,000 people.
• Worthing West; 24 per 1,000 people.
The five lowest constituencies (with 4-5 per 1,000 people) are:
• Poplar and Limehouse
• West Ham
• Bethnal Green and Bow
• Manchester Central
• Hackney South and Shoreditch
The UK constituency with the lowest number of people living with dementia is Na h-Eileanan an Siar with 476. This is over five times less than the Isle of Wight which has the most people living with dementia at 2,743.
Dr Matthew Norton, director of policy at Alzheimer's Research UK, said: "Today, one in three people have a family member or close friend with dementia. Despite this, there is still a worrying lack of public understanding about the condition, which is we have developed the dementia hotspots maps.
"Dementia is not an inevitable part of ageing, it is caused by diseases. Through the power of research, we know we can change the outlook for people with dementia – but to achieve this, research must have the backing of the public and parliament.
"These maps underline the devastating impact dementia is having on our communities, and we hope it will inspire people to join our movement to bring an end to the fear, harm and heartbreak caused by dementia."
Currently, there are 850,000 people in the UK living with dementia but this number is set to rise to one million by 2025. He added: "The last government made dementia a national priority and great strides are being made towards finding an effective treatment and this momentum must continue."
The new online interactive tool is part of the charity's Dementia Statistics Hub, which contains up-to-date information about England's number one killer.
To take a look at dementia in your area, find the maps by visiting:
www.dementiastatistics.org/statistics/dementia-maps