Stories and poems are bringing young and old together through an innovative scheme, where English Literature students share their love for Keats and Kipling with care home residents.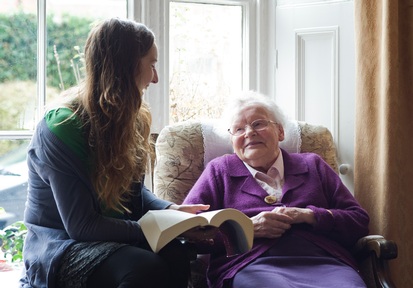 The Exeter Care Homes Reading project is the brainchild of Dr Johanna Harris, English Literature lecturer at Exeter University. Around a hundred students volunteer for the scheme every year, and the project has been a big hit with students and residents from care homes all over Exeter.
Poetry can transcend 'generational gaps''
She said: "It seems more important than ever to build links between younger and older generations, given the ageing population is a sector that is increasingly in need of greater community support. Each group tends to be surrounded by people their own age, which can lead to a slightly distorted perspective on life. Immersed in student life, it's easy to forget about 'hidden' vulnerable older people who exist in every community and for the elderly to characterise young people as selfish, noisy and disruptive.
"From my own experiences, I have seen what literature can do. One poem that is requested again and again by both students and the care home residents is Wordsworth's 'Daffodils'. There is something about the beauty of nature, the nostalgia and the downright Englishness of that poem which transcends generational gaps and really brings people together."
Dr Harris has found the project, which she started in 2011, has had a huge impact. "There was one lady, who had reached 100. She was a former actress and used to love performing in theatre, and she would virtually recite entire plays.
"Her son was astounded by this as it was a side to her that he hadn't seen previously. It was great to see how the students were able to unlock an aspect of her character and her experience; it was really special."
Another beneficiary of the scheme was an Irish woman who remembered her childhood in Ireland by reciting WB Yeats. According to Dr Harris the Irish poetry "brought up memories from her childhood that even her carers didn't know about".
Older generation 'learnt poetry off by heart' at school
Although it's English literature students that participate in the scheme, it is quite often the residents who will choose what poems and plays they want to hear.
Oak House, a specialist care home, primarily caring for older people with dementia, has been instrumental in the reading scheme and recognises the importance of using poetry to improve the wellbeing of its residents.
Its manager Diane Smyth, said: "The recognition of various well-known poems and readings has helped to bring back long-term memories of the past. It has created a stimulus and a sense of wellbeing and familiarity.
"It is easy to forget, that when this older generation were at school, poetry was a significant part of the English curriculum and they were required to recite and learn poems off by heart. The relevance of this is that, we are reengaging with long term memories and that's important especially for those who have dementia."
'Even the hard of hearing can still appreciate the rhythms of verse'
The reading project came about when Dr Harris realised that many of her young students weren't benefitting from the company of older people. The intergenerational reading project seemed like a good way of reconnecting them with many people in the community that they wouldn't normally be in contact with.
Dr Harris explains: "I'm from Australia originally and I came to the UK to study and I noticed the distance from my grandparents, and one of the things I also noticed is that undergraduates leave home a lot earlier here. In Australia we tend to maintain this connection with older people a lot longer.
"With our undergraduates, I noticed at 17 or 18 they were leaving home and then often they are really losing that connection with older people. That's when the scheme started."
Students found that the care home residents like a lot of classic and romantic poetry. Poets like Wordsworth, Kipling and Keats are frequently requested according to former English student, Cameron Milne. He said: "Anything by the Romantic poets or that reminded them of their childhood, such as Samuel Taylor Coleridge's 'Rime of the Ancient Mariner', was popular.
"Usually they were poems that they could reminisce about. T.S Eliot's 'Cats' went down an absolute treat and Macavity the mystery cat had them all in stitches. Even people who are hard of hearing may not have understood all that you were saying but they can still appreciate the rhythms of verse. One resident was from Ireland and she really enjoyed Heaney and Yeats."
'Joan lights up when I walk into the room'
Former English and Drama student, Katherine Lea, found the most rewarding thing about visiting the care home and "reading to Joan is the way she lights up when I walk into the room. Every time I see her she gets more comfortable around me, and she's started telling me stories about her life so it's become very much an interactive process.
"In starting this project, I've made and built a friendship that is just as rewarding for me as it is for her! It's such a wonderful opportunity for her to be able to momentarily escape and be carried away by the language of some of her favourite poems, and I am so lucky to be able to bring this happiness to her life."