Care home workers can form a very close bond with residents and because of this, they are 'in a unique position to help them express and achieve their wishes for their final days and hours,' according to Marie Curie.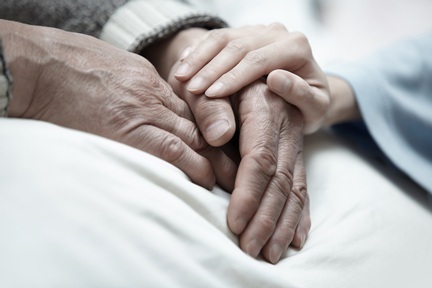 The charity which gives care and support to people with a terminal illness, has developed an online resource to improve the knowledge and confidence of healthcare professionals in caring for people at the end of their lives.
The guidance includes information for care home workers, as dealing with people at the end of their lives is inevitably part of the job, with 100,000 dying annually in care homes in England and Wales.
Care home workers can make a huge difference to a resident's last days
'You already know your resident well,' says the guidance, 'so you may feel you know what kind of surroundings would help their last days stay calm and gentle. But it's important not to make assumptions, which is why asking this question may be useful.
'Although residents are encouraged to make their room their own, they may not feel comfortable doing so. There may be things from home or people that they would like around them, but find it difficult to ask for them. Some care homes are very vibrant and noisy, and it may be that a different room may be more appropriate to ensure a peaceful environment.'
There is valuable advice on how to talk to a resident about their concerns about dying
'When people are nearing the end of their life, they may start to think about past regrets. Having a chance to set things right, for example by ending a long-running argument in the family, can help them find a more peaceful state of mind. Even if this is not possible, they might feel better simply because they've told someone about it. Remember that effective communication is at the root of person-centred, holistic care. This means being patient, listening effectively without interruption and responding honestly and openly.'
Caring for residents who are at the end of their life can be emotionally draining, yet too often it is seen as part of a care worker's job and they are expected to just get on with it.
Claire Henry, chief executive of the National Council for Palliative Care, says: "We know that end of life care is improved when the dying person has a dedicated care worker or team, rather than a rotating pool of staff. But we mustn't forget the impact on those staff when someone they have come to know well dies. They need practical, emotional and where appropriate spiritual support, or we risk them leaving the care sector."
When a resident dies, it can be 'really traumatic'
One care worker revealed that when a resident dies, it "can be a really traumatic experience, and that for one resident I cried more than the family, to the point the family were then consoling me instead of vice versa".
Marie Curie launched its free online resource a year ago and over 80,000 people have used the guidance in that time.
Liam Gannon, marketing manager at Marie Curie, says: "The Marie Curie Palliative Care Knowledge Zone has had a really positive effect, and this is borne out of the fact that around 30-35 per cent of website hits are comprised of return visitors.
"This goes to show that professionals do value this resource and they like to use it as part of the on-going care they provide to their patients."
The guidance aimed at healthcare professionals who don't have specialist-level training in caring for people with a terminal illness, includes advice on controlling symptoms such as constipation, breathlessness, weakness and fatigue and how to care for someone in their final days. There is also a list of guides for caring for people with specific conditions such as dementia, Multiple Sclerosis and Parkinson's.
There is a section on equality and diversity which provides information on caring for LGBT people, people who are homeless and people with learning disabilities. In addition, there is a whole range of information on how to talk to someone with a terminal illness who has children, or who lives alone, or people who have been recently diagnosed.
Guidance enables health professionals to be 'more informed, skilled and confident'
Mr Gannon adds: "As experts in caring for people living with terminal illness, we saw the creation of a free online end of life resource as a key component that helps us to utilise our knowledge to support health professionals to be more informed, skilled and confident in the care they deliver to their patients.
"We're passionate about providing great end of life care, not just through our own services, but by also helping to improve care standards provided by other organisations beyond Marie Curie."
The content has been reviewed by a panel of experts from Marie Curie and user tested by members of the Queens' Nursing Institute.
Professor Bill Noble, executive medical director at Marie Curie, says: "It's vital that people with a terminal illness and those involved in their care get the support they need. By sharing our expertise, we hope that more health and social care professionals feel more confident and better able to deliver the high quality, compassionate care that everyone expects and deserves."
'It has prepared me for my new role in a nursing home'
Feedback on the resource has been very positive with a care home worker saying: "It has prepared me for my new role in a nursing home as most of the residents have some form of dementia and are at end of life."
While another care practitioner said: "I will be looking at palliative care in a different way - understanding each individual's needs, spending more time to listen and communicate with residents."
Marie Curie is planning to add more information topics in 2018 and the charity is always looking for new ideas. To send feedback/comments on existing information or to suggest new topic areas, you can contact the charity by emailing knowledgezone@mariecurie.org.uk.
Visit the Marie Curie Palliative Care Knowledge Zone to get the information and support you need when caring for someone with a terminal illness.