An 80-year-old man has died after an oxygen cylinder exploded in his bedroom at Woodlands View care home in Stevenage.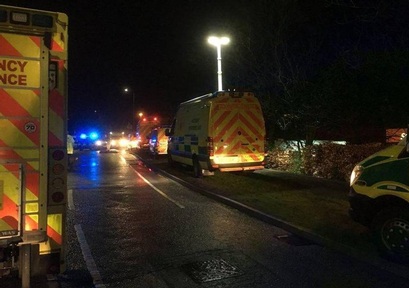 Six other people at the home in Magpie Crescent had to be taken to Lister Hospital following the explosion, with one suffering burns and the others treated for smoke inhalation. One remains in serious condition.
Eight fire engines and six ambulances, as well as two air ambulances, were sent to the scene.
Hertfordshire Fire and Rescue Service were alerted to the fire at the home at 4.30pm on Saturday 3 February.
Darryl Keen, chief fire officer and director of Community Protection at Hertfordshire County Council said: "There were 41 people in the premises at the time of the fire, many of these self-evacuated but firefighters completed five rescues and assisted another 10 from the property. All 41 residents, staff and visitors, were assessed by the Ambulance Service. The fire was out by 5pm."
Hertfordshire County Council social services is continuing to work closely with care home provider, HC- One, to ensure the welfare of residents affected by the fire.
"The care home providers are doing everything possible to contact relatives of residents to keep them updated with the latest information. The joint response from all the emergency services has been commendable. An investigation into the cause of the fire will now be carried out.
"Our thoughts are with all those affected," added Mr Keen.
A spokeswoman for Woodlands View Care Home said: "We regret to confirm a fire broke out at a unit of Woodlands View Care Home in Stevenage at 4.30pm on Saturday (February 3).
"Sadly, one resident has since passed away.
"Our deepest sympathies are with their family and we are doing everything we can to support them."
Staff at the home were praised for taking immediate action to alert emergency services and evacuate residents, staff and visitors.
The care home's spokeswoman added: "Additional staff from across the organisation arrived quickly at the home last night to support all other residents and staff.
"The safety and wellbeing of residents is our number one priority.
"We are incredibly grateful to everyone involved, including the emergency services and Hertfordshire County Council, as well as our own colleagues, for their very swift and professional response which enabled residents from the unit to be relocated quickly and safely to other units at the home, and to our nearby sister homes.
"We have also been keeping the families of all residents up to date with the latest developments. At this stage we do not know why yesterday afternoon's incident took place and in due course, there will be a full and proper investigation."
Herts County Council found alternative accommodation for the residents.