TV star Gloria Hunniford is one of many celebrities backing Public Health England's (PHE) Act FAST stroke campaign, which urges the public to call 999 if they notice signs of a stroke in themselves, or in others.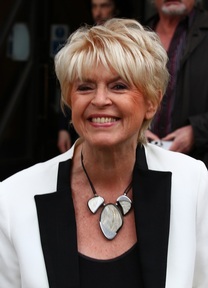 Stroke is one of the leading causes of death in England and while it is often associated with older people, latest research shows that four in 10 cases now occur in adults aged between 40 and 69-years-old.
Offering her support to the Stroke Association, the 77-year-old television and radio presenter has retold the moment she found her husband having a stroke at home, and how vital it is to spot the signs of an attack.
She said: "I know first-hand the importance of recognising signs of stroke and acting fast, having had to do so for my husband, Stephen. I was about to head out of our home to work, when Stephen stumbled into the house from the garden saying his left arm felt like cotton wool. My dad had suffered a series of strokes, so recognising the warning bells, I knew I had to act fast."
She added: "Not many of us realise how quickly the clock is ticking for someone who is suffering stroke – thankfully Stephen got to the hospital in time to receive clot-busting treatment within the crucial three-hour time window."
One in six people will have a stroke in their lifetime
Stroke is the third most common cause of premature death and a leading cause of disability in the UK. In England, one in six people will have a stroke in their lifetime.
While the majority (58 per cent) of strokes still happen in older age, 38 per cent now occur between the ages of 40 and 69 - up from 33 per cent in 2007.
Grandmother Wendy Nassaris, from Devon, suffered a stroke in November 2017. She was applying lipstick one morning when she noticed that her lips felt numb. She said: "I investigated a little bit in the mirror but thought nothing more of it and left the house. Everyone at the coffee morning all noticed my face looked different. I had no idea what they meant, but when my cousin said that my face looked like I was having a stroke, it suddenly hit me. I looked in the mirror and I could see that my face had dropped on one side."
Ms Nassaris managed to get back home to her husband and spent the following 24 hours recovering in hospital.
She added: "It took me about three weeks to feel myself again following my stroke. Thankfully I've made a good recovery but do struggle with fatigue and my emotions."
Around 1.9 million nerve cells in the brain are lost every minute that a stroke is left untreated, which can result in slurred speech and paralysis.
Act FAST
The FAST test helps people recognise the most common symptoms of a stroke and the right action to take:
FACE: Can the person smile? Has their mouth or eye drooped?
ARMS: Can the person raise both arms?
SPEECH: Can the person speak clearly and understand what you say?
TIME to call 999
Commenting on the campaign, Juliet Bouverie, chief executive of the Stroke Association, said: "Stroke is the killer condition that has been ignored for too long in the UK. These latest figures suggest that stroke is increasingly occurring in people at a younger age. This urgently needs to change.
"As the UK's leading stroke charity, we have said it time and again; stroke devastates lives in an instant, leaving people facing a lifetime of disability. But it doesn't have to be this way. The faster you seek and receive emergency specialist treatment for stroke, the better your chances of making a good recovery. Knowing the signs of stroke and being able to Act FAST could save a life – your life."
PHE launched the campaign on 1 February. For more information and help go to: www.stroke.org.uk