NHS England is planning to fund the recruitment of 240 pharmacists into care homes to help reduce overmedication and avoid unnecessary hospital stays.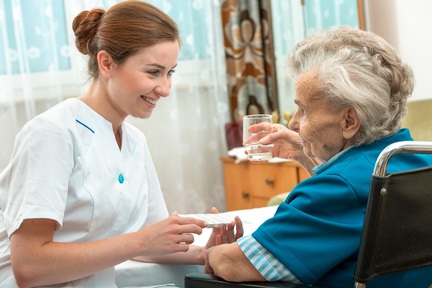 Around 180,000 people living in nursing or residential homes will have their prescriptions and medicines reviewed by the pharmacists and pharmacy technicians.
Simon Stevens, chief executive of NHS England, said: "There's increasing evidence that our parents and their friends – a whole generation of people in their 70s, 80s and 90s – are being overmedicated in care homes, with bad results.
"Let's face it- the policy of 'a pill for every ill' is often causing frail older people more health problems than it's solving. So expert pharmacists are now going to offer practical NHS support and medicines reviews in care homes across England."
Care home residents prescribed 10 or more medicines
Care home residents often have one or more long-term health conditions, such as dementia, hypertension, diabetes or heart disease, and are often prescribed 10 or more medicines.
Studies show up to one in 12 hospital admissions are medicine-related and two-thirds of these are preventable.
It has been estimated that approximately £50m worth of NHS supplied medicines are disposed of each year by care homes, regardless of their shelf life.
NHS trials have shown that pharmacists reviewing medicines improved patients' quality of life by reducing unnecessary use and bringing down emergency admissions, with less time spent in hospitals.
In East and North Hertfordshire, where this model was applied across 37 care homes, an annual drug cost saving of £249 per patient was seen, and in Northumberland, one hospital readmission could be avoided for every 12 residents reviewed.
Around £24m of medicines is wasted every year in care homes
Sandra Gidley, chair of the Royal Pharmaceutical Society's English Board, said: "This significant investment highlights the growing recognition that pharmacists who support care home residents can reduce medicines waste, improve efficiency and provide better health outcomes.
"Many pharmacists already play a vital role in care homes, including through supporting other staff as part of a multi-disciplinary team, and we know that our members will welcome the opportunity to get more involved in providing direct patient care."
Healthwatch England national director Imelda Redmond, added: "We know from our work on hospital discharge that pharmacy and effective links with care services are key to helping people get home and stay home after receiving treatment. We also know from Healthwatch visits to care homes that at the moment it can be hard for residents to get access to pharmacists, GPs, dentists and other vital services.
"So this initiative from NHS England, as the health service and local government look to work more closely together on these issues, is a welcome move and we at Healthwatch look forward to following up to see the difference it makes to care home residents."
The roles for 180 pharmacists and 60 pharmacy technicians are being funded over two years at a cost of £20m by the NHS England Pharmacy Integration Fund.
The reviews will be carried out in coordination with GPs and practice-based clinical pharmacists to ensure people are prescribed the right medicines, at the right time, in the right way to improve their health and overall quality of life. They will be recruited from April and deployed by hospital trusts.
There are currently 45,923 registered pharmacists in England, 19,510 registered pharmacy technicians and 12,042 community pharmacies.