The Pfizer/BioNTech COVID-19 vaccine has been approved for use in the UK and is available in 'hospital hubs' from next week with older people, NHS and care workers given priority.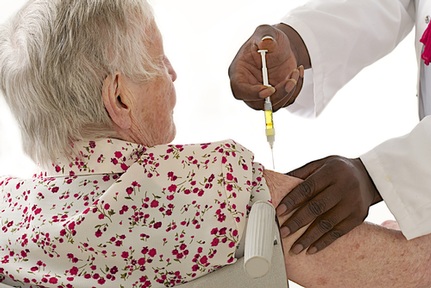 The vaccine has been approved by the independent Medicines and Healthcare products Regulatory Agency (MHRA).
The Joint Committee on Vaccination and Immunisation (JCVI) has published a priority list, which sets out that residents and staff working in care homes for older people should get the vaccine first.
However, Prime Minister Boris Johnson admitted at a Downing Street briefing, that he had not yet got "sign off" from the MHRA to deliver the vaccine to care homes. Further authorisation is needed from regulator before the 975-dose boxes can be split up into batches suitable for distribution to care homes.
The vaccine, which will be free, is delivered at very cold temperatures and as a result the government has said 'at first we will only be able to deliver it from hospital hubs'.
Pfizer has said 800,000 doses are being delivered to the NHS this week. The elderly and care workers will need to travel to hospital hubs initially to get the vaccine.
Chief executive of the NHS, Sir Simon Stevens said during the briefing: "The way we will do it is that next week, around 50 hospital hubs across England will start offering the vaccine to the over-80s and to care home staff and others identified by the JCVI."
The vaccine needs to transported at -70C but once delivered and defrosted can be stored in fridges at 2C to 8C. The Prime Minister said it will be "months" before all of the most vulnerable are protected.
Infection rates higher in care home staff than NHS or domiciliary workers
The vaccine is 94 per cent effective in protecting people over the age of 65 from COVID-19.
A Department of Health and Social Care spokesman said the vaccine's approval 'follows months of rigorous clinical trials and a thorough analysis of the data by experts at the MHRA who have concluded that the vaccine has met its strict standards of safety, quality and effectiveness.'
The JCVI has stated data indicates the vaccine has high efficacy in all age groups 'including encouraging results in older adults'.
The Committee stated: 'There is evidence that infection rates are higher in residential care home staff than in those providing domiciliary care or in healthcare workers. The single greatest risk of mortality from COVID-19 is increasing age and that the risk increases exponentially with age'.
The JCVI priority list order is:
1. Residents in a care home for older adults and their carers
2. People aged 80+ and frontline NHS and social care workers
3. People aged 75+
4. People aged 70+ and individuals on the 'clinically extremely vulnerable' list
5. People aged 65+
6. People aged 16-64 years with underlying health conditions which put them at higher risk of serious disease and mortality
7. People aged 60+
8. People aged 55+
9. People aged 50+
It is estimated that collectively, these nine groups represent 99 per cent of preventable deaths from COVID-19.
'Clinically extremely vulnerable' on list
The JCVI advises that people under the age of 70 years who are on the 'clinically extremely vulnerable' list 'should be offered vaccine alongside those aged 70- 74 years of age'.
This is because in the UK, the overall risk of mortality for clinically extremely vulnerable younger adults is estimated to be roughly the same as the risk to persons aged 70–74 years old.
'Individuals considered extremely clinically vulnerable have been shielding for much of the pandemic This means that available data are likely to underestimate the risk in this group', the JCVI added.
The JCVI also stated 'There is no strong evidence that ethnicity by itself (or genetics) is the sole explanation for observed differences in rates of severe illness and deaths' in Black, Asian and minority ethnic (BAME) groups.
'Certain health conditions are associated with increased risk of serious disease, and these health conditions are often overrepresented in certain BAME groups.'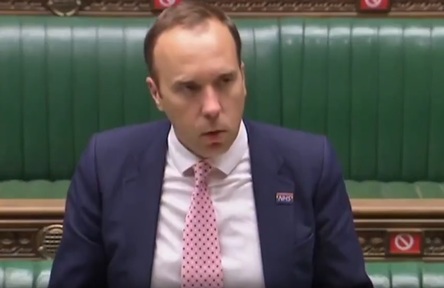 Health Secretary Matt Hancock told MPs earlier this week that his step-grandfather from Liverpool contracted COVID-19 and died.
On 2 December, he said: "I'm confident now, with the news today, that from spring, from Easter onwards, things are going to be better. And we're going to have a summer next year that everybody can enjoy."
England's deputy chief medical officer Professor Jonathan Van-Tam called it a "remarkable day" and said: "To all those who are eligible – this is the start of vaccine supply for the UK. In time, you will be invited to book your appointments to get your vaccinations. I urge you to be ready, and to help make the process as smooth as possible."
The vaccine took only 10 months to complete. Developed by US drug company Pfizer and German firm BioNTech, the vaccine has been tested on 43,500 people in six countries - with half having received the vaccine and the other half a placebo.
The government has already ordered 40 million doses of the vaccine.
Each individual is required to have two doses of the vaccine which are to be taken 21 days apart.
As well as hospital hubs for NHS, care staff and older patients to be vaccinated, the government aims to get the vaccine delivered in care homes, GPs and pharmacists as well as vaccination centres at venues like sports halls.
Unknown how long immunity lasts
It is unknown how long immunity from the virus lasts after a person is vaccinated and whether it can stop someone passing on COVID-19. The mRNA vaccine targets the S-protein in the virus, with the vaccine giving antibodies against the S-protein.
It was developed by injecting part of the virus' genetic code into a person, which then produces the coronavirus spike protein. This sparks the immune system to produce antibodies and activate T-cells to fight cells infected by the virus.
The UK has secured 357 million doses of seven vaccines, including:
- BioNTech/Pfizer for 40 million doses
- Oxford/AstraZeneca for 100 million doses
- Moderna for 7 million doses
- GlaxoSmithKline and Sanofi Pasteur for 60 million doses
- Novavax for 60 million doses
- Janssen for 30 million doses
- Valneva for 60 million doses
Prime Minister Boris Johnson has urged people to take the vaccine but told MPs today he has no intention of making vaccination mandatory for the population.
Boris Johnson said: "It's the protection of vaccines that will ultimately allow us to reclaim our lives and get the economy moving again."