Welsh actor Steve Speirs, who starred in Pirates of the Caribbean as well as TV comedy Big School with Catherine Tate and David Walliams, has officially opened Greenhill Manor care home in Merthyr, Wales, which has undergone an extensive 16-month refurbishment.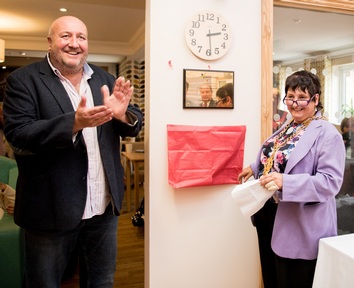 Greenhill Manor now has an old fashioned pub, a hair salon plus a farmhouse kitchen to encourage residents to get more involved at mealtimes, as well as a cinema and a café.
Mr Speirs was joined by the Mayor of Merthyr, Councillor Margaret Davies and Hallmark Care Homes managing director Avnish Goyal.
General manager, Mark McCole said: "We had a fantastic day at the home's grand relaunch event. The refurbishment will make a huge difference to our residents' lives at Greenhill Manor. We have new facilities and our existing facilities have been upgraded to enhance choices and opportunities within the home. We are proud to have such an amazing environment."
44-year-old Lisa O'Conner, who is a resident at the home added: "We are really excited about the new facilities at the home, we love all of the new areas that the home has to offer and will use them lots."
Greenhill Manor Care Home is part of Hallmark Care Homes, which has 15 care homes across England and Wales. It provides nursing and dementia care as well as care for the physically disabled.
click here for more details or to contact Greenhill Manor Care Home