Reading University students 'lift spirits' of care home residents with Christmas concert
06-Dec-16
Article By:
Charley Walker, News Editor
Students from the Reading University Gospel Choir and residents at Lakeside Residential Care Home shared 'quality time' together during a special Christmas carol performance.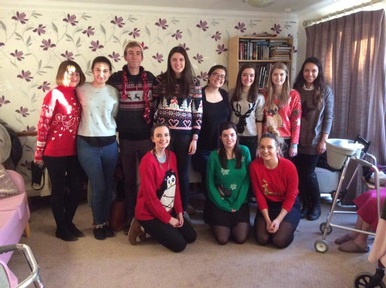 Care home residents accompanied the choir of university students as they performed a range of Christmas carols to get the home in the festive spirit.
Sheila Garraway, lifestyle and activities coordinator at the home, said: "We are extremely lucky in our location as we are across the road from The University of Reading whom we have very strong connections with.
"We believe in inviting the community in to share quality time with our residents and we very much focus on having fun."
The partnership between the choir and the home began in 2015 as the students wanted to get involved in charity work.
It proved to be beneficial for both sides as the residents' spirits were lifted by the young musicians' performances, while the students got a chance to rehearse their repertoire in front of an audience before their Spring concert.
'Therapeutic' interactions
Ms Garraway said that Reading University Gospel Choir's performances are always "very therapeutic" for residents and the students get "great reactions" from residents, staff and families.
Bethan Taylor, a committee member for the choir, said: "The residents always love to join in, especially with Amazing Grace and the carols. Even the songs that they don't know they will often clap along.
"One lady got up and joined the choir which was good fun. On another occasion a lady got up and took over from the president by conducting us."
Care home staff 'witness some very special moments for students and residents' with dementia
Many residents at Lakeside Residential Care Home live with dementia and staff at the home recognise that this can be daunting for those who have no experience of interacting with people with dementia.
Ms Garraway explained: "We understand it can be quite daunting for the younger generation if they have no experience of dementia residents before.
"Hence we make them feel welcome and encourage them to chat with the residents. We witness some very special moments for both the students and our residents."
Miss Taylor, who is in her final year at the University of Reading, described the response from residents and staff as "very warm and welcoming."
'We love going'
She added: "We are always given juice on arrival and given time to quickly warm up our voices. The staff always encourage us to mingle with the residents after we have sung and tell us to stay as long as we want to.
"The residents are mostly chatty and enjoy talking to us after we have performed. We are always told that we are welcome to come back and perform again.
"Our next term is very busy but I'm sure we will be back after Easter because we love going."
Ms Garraway added: "We certainly hope to see this lovely choir again in 2017."
click here for more details or to contact Lakeside Residential Care Home