Care home resident, Pearl Durant, tried out news presenting as part of a behind-the-scenes tour of BBC's Southampton studios.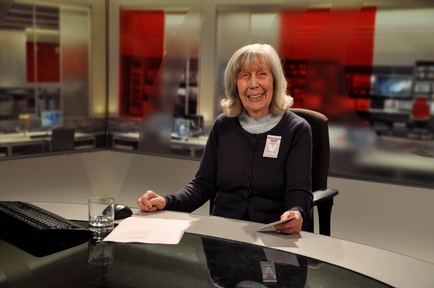 The trip for residents from Colten Care's three Lymington homes - Belmore Lodge, Court Lodge and Linden House, was given as a thank you from the BBC for the care homes' hard work in raising over £8,000 for Children in Need.
Residents saw final preparations for a South Today TV news bulletin, met presenter Allen Sinclair, read from an autocue and sat on the studio couch.
They also heard from BBC Radio Solent producers about the latest developments in broadcast technology.
Belmore Lodge resident Bill Marks called the visit a fascinating way to round off the homes' fundraising campaign, adding: "It was amazing coming in and seeing the changing technology. It's obviously all moved on from the reel-to-reel tapes I'd normally associate with a studio."
Despite using a wheelchair, Bill supported Children in Need by taking part in a sponsored stationary bike ride challenge, completing a mile's worth of turns using his hands. He said: "I'm always happy to help children who are disadvantaged as they deserve the best of luck in life."
Eighty-three-year-old Pearl Durrant who helped launch Linden House's fundraising, got to sit to in the South Today presenter's chair.
The three Lymington homes together raised £8,214 for Children in Need at the end of 2016.
As well as the stationary bike ride, team members devised a photo caption competition and held a gala ball and auction at Lymington sailing club.
In a personal challenge, Court Lodge activities organiser Julia Puia even endured a sponsored baked bean bath.
Pam Bacon, South West regional officer for BBC Children in Need, said: "It was lovely to welcome such kind-hearted people and show them round our studios. The amount they raised is fantastic and we thank them for such a brilliant effort."
Janie Pearman, manager at Belmore Lodge, said: "Our residents and team members truly value being part of the community and helping worthy causes. Once we knew they wanted to support Children in Need, we all got behind it. The studio tour was a great way to recognise what everyone has achieved and we're so grateful to those at the BBC who helped make it happen."
The 2016 BBC Children in Need appeal raised a record £46.6 million nationally by the close of the broadcaster's telethon last November. The money goes towards helping disadvantaged children and young people across the UK.