Celebrities are stalking a care home in Sonning it seems – with the latest visit including some dance moves from Britain's Prime Minister Theresa May.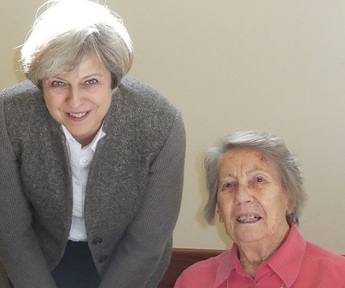 Life for the residents of Sunrise Senior Living of Sonning care home has been far from dull recently.
A mere two weeks after Hollywood heartthrob 'Gorgeous George' Clooney popped in unannounced at their care home on 19 March to give lucky lady Pat Adams a bunch of flowers and a very happy 87th birthday, the residents were shocked to see Theresa May strutting her stuff at their local village party in Charvil on 8 April.
After turning up at the party unannounced, Theresa May drank tea and ate sandwiches and cake with them before letting them see what a mover and shaker she was.
It was Elvis that got the PM going – or rather an Elvis Tribute band - which led to Mrs May jiving with other partygoers.
The MP for Maidenhead was at an annual party with her husband Phillip and politics fan Margaret Wright, who had her photograph taken with Theresa May, was the most excited to see the Prime Minister.
Perhaps the PM's visit was a warm up for some General Election campaigning, as 10 days later she announced a snap election would be held on 8 June.
Are care homes becoming the new celebrity hang out?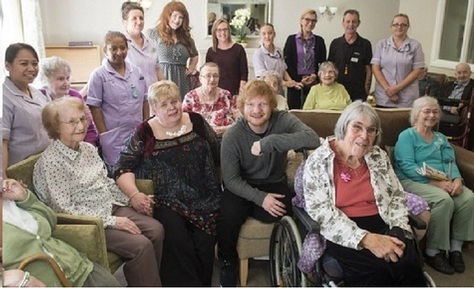 Singer Ed Sheeran famously dropped in for tea and cake at Mills Meadow care home in Framlington, Suffolk in 2015, to unveil a new dementia suite named after him.
George Clooney's sudden appearance at the Sunrise care home came as the Oscar-winning actor settles into his Sonning home, ahead of the impending arrival of twin children with his human rights lawyer wife Amal.
Theresa May often attends Sunday services at St. Andrews Church in Sonning but her appearance at the tea party came as a complete surprise to the party guests.
Care home workers' letter-writing is paying off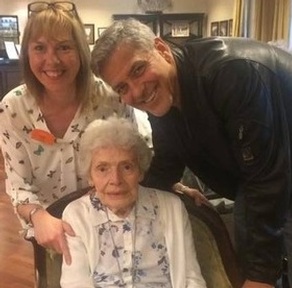 But Theresa May and George Clooney's visits have been the result of newsletter articles and letters sent to them by staff as part of the Sunrise group's 'Wish Upon A Star' initiative, through which care home staff try to fulfil the wishes of residents.
Georgina Williams, activities and volunteers co-ordinator at Sunrise of Sonning said: "After the surprise visit of George Clooney two weeks ago, we were delighted when the Prime Minister turned up at the village party on Saturday.
"It was a particularly exciting occasion for our residents with a keen interest in politics. "Who knows which famous face will arrive on our doorstep next."
After a famous fortnight for the care home, residents and staff are now plotting their next star-studded surprise.
click here for more details or to contact Sunrise of Sonning