Comedian Jason Manford made a surprise visit to a care home in Greater Manchester last week after a care home worker contacted him on Facebook.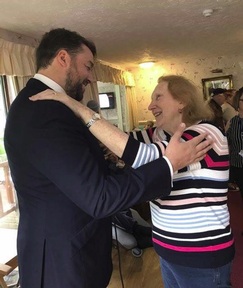 In a video clip shared on the performer's Facebook page, Jason can be seen entertaining 40 residents at The Lakes Nursing Home in Dukinfield, singing hits including 'Stars', 'Hushabye Mountain' and 'I Have Dreamed'.
The video has been shared almost 3,000 times and liked by over two million users.
After the performance Jason wrote on his Facebook page: "A few weeks ago, Tracy Hannible from The Lakes Nursing Home, replied to a post of mine plugging my album on my Facebook fan page. Her cheeky request was for me to come and perform some of the album tracks to the elderly guests she and the rest of her hardworking team look after at the home.
"It was one of several hundred messages but I spotted it and thought, 'sod it, the kids will be in school, and it'll be a laugh!'
"So earlier on today I drove over to the home to perform some of the songs from my album. It reminded me of being a boy when my mum was a matron at a care home in Stockport and we'd occasionally go and call their bingo or sing old songs with them, just lovely and great fun."
A month before the visit, activities coordinator Tracy Hannible left a message on Jason's Facebook page, asking him to perform at the care home. To her surprise, the stand-up performer got back in touch and a 'gig' for the residents was booked.
According to Annette Peace, manager at The Lakes Nursing Home, the residents were 'enamoured' by Jason, who also spent some time after his performance chatting to care home staff and finding out about the work they do.
Ms Peace said: "His singing was amazing. The residents were singing and they applauded afterwards. They didn't need any prompting.
"Jason is a very good singer and did it all for free through the goodness of his heart."
She added: "The lady in the video clip loves music and it absolutely made her day. She loved it, they all did. He was gentle with them and funny with them, and we couldn't have wished for more."
A daughter of a resident at the home left a comment on Jason's Facebook page saying: "Thank you Jason, my mum is in The Lakes and she will have loved that. You are a true Manchester lad who hasn't forgotten your roots. That must have been a wonderful surprise for all the residents and staff. Thank you again Jason, you are a true star."
The Lakes Nursing Home was rated 'good' by the CQC in June 2017 and provides 24-hour care.
click here for more details or to contact The Lakes Nursing Home