A care home in Solihull for ex-service men and women has been rated outstanding by the Care Quality Commission, which found the home to be 'inclusive' and supportive of LGBT residents, where 'people matter'.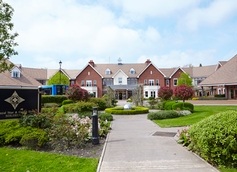 In addition, the care regulator found that staff at The Royal Star & Garter Home - Solihull were 'kind and spoke about people with warmth and affection' and were committed to 'maintaining people's dignity and privacy. They continually supported people to maintain and regain their independence'.
The purpose-built home is run by The Royal Star & Garter Homes Charity and provides nursing and personal care for up to 60 people.
Maggie Hannelly, CQC's head of inspection for adult social care in the central region said: "Our inspection team was really impressed by the level of care and support offered to people at The Royal Star & Garter Homes – Solihull, which demonstrated the home's values of respect, dignity, companionship and hope.
Excellent dementia care
"People were kept safe through clear guidance to staff about how to protect people from harm and staff strived to continue the service's excellent dementia care, which had been nationally recognised."
She also highlighted the inclusivity of the care home saying: "Religious and spiritual needs were recognised and embraced and people from the LGBT community were welcomed by the inclusive staff team".
The provider has a policy called 'veterans, spouses and partners' which is inclusive to everyone regardless of their sexual orientation. As well, the care planning process includes a sensitive discussion with people around how they choose to express their sexuality to ensure their needs can be met by the home. To facilitate this all staff have completed equality and diversity training, the report revealed.
"We were made aware that future training for staff will include more examples and scenarios from more diverse groups of people. A meeting was planned shortly after our visit to discuss how to incorporate different scenarios of the LGBT community," said inspectors.
Quality of care 'exceptional'
Andrea Sutcliffe, chief inspector of adult social care, called the quality of care at the home "exceptional" and added: "I am very pleased that we can celebrate the service's achievements.
"An outstanding service is the result of a tremendous amount of hard work and commitment. I would like to thank and congratulate everyone involved."
The report also found that there is no restriction on visiting times at the care home, staff do not wear uniforms and staff who work at night wear pyjamas.
'I trust the staff and I feel safe here'
People spoke positively about the way their medicines were administered by the staff and they felt safe living at the home, with one resident telling inspectors 'I trust the staff and I am absolutely safe here'. Another said: 'I feel safe here. The staff sit and hold my hand.'
Andy Cole, chief executive of The Royal Star & Garter Homes Charity called the outstanding rating "great news" and said: "We are extremely proud of the Solihull Home and delighted that our care has been acknowledged. It takes a truly passionate and dedicated team to achieve an 'Outstanding' rating. I want to thank and congratulate all the staff and volunteers at The Royal Star & Garter Homes for this wonderful achievement."
The CQC report also highlighted reviews on carehome.co.uk, stating 'the home had recently been rated on a care comparison website as one of the best care homes in the area, with an average rating of 9.4/10. This comprised of 5 reviews made up from people who used the service in the last 12 months. We looked at a selection of these comments which included, 'It is very difficult to compare The Royal Star & Garter with other homes as it is so obviously outstanding.' And 'From the facilities,activities to the amazing staff. The Royal Star & Garter exceeded our expectations.'
To view the inspection report go to http://www.cqc.org.uk/location/1-124415551d
click here for more details or to contact The Royal Star & Garter Home - Solihull