A young woman who was given only hours to live at birth has landed her dream job caring for vulnerable, older people.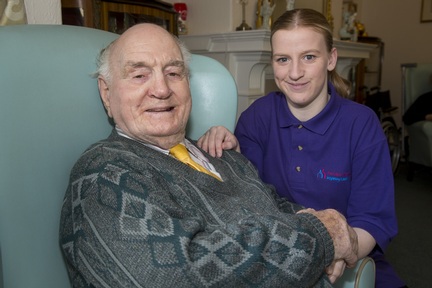 Jade Boiling was born with a catalogue of major health problems but after defying the odds, and gaining an industry-recognised qualification, she is now in line for a permanent job as a care worker at Pendine Park's Gwern Alyn House in Wrexham, North Wales.
Caring for older people has always been a passion of the 21-year-old's and thinks it is the most rewarding job she could have. She said: "I spent so much time in hospitals watching nurses work, I decided that's what I'd like to do one day."
Defying doctor's predictions
Soon after Ms Boiling was born, doctors discovered a benign tumour running through a large area of her body, including her spine, kidneys, heart and lungs. Doctors informed her parents that with a poor prognosis she would not survive, and her ventilator would be switched off, but she defied their prediction and carried on breathing without medical help.
However, the damage created by the tumour caused further problems with Ms Boiling's kidneys. "I needed a transplant and was on the list for about ten years without a suitable donor being found. Then in 2007 my mum donated one of her own kidneys," she said.
"Although I was much better after the transplant, I still have problems with my health. A low immune system means I can catch anything now."
'She's an inspiration, friendly and eager to do the job'
Ms Boiling eventually landed a place on the Step Into Care training programme which equips people aged 16 to 24 - who are not in education, employment or training (NEET) - with the skills to find fulfilling work in the care sector.
Commissioned by Communities for Work, the four-week programme offers work experience with the Pendine Academy of Social Care and a placement at one of their care homes.
Ms Boiling was one of six young women who successfully graduated the course and gained a City & Guilds Employability Skills qualification. Commenting on the scheme and the opportunities it has offered, she said: "It was a very enjoyable course which taught me a lot. At the moment I'm working as and when required at Gwern Alyn, which I really love, and I've been placed top of the list for a permanent job when one comes up.
"Although I'm much better, I still have problems with my health and can fall ill at any time, but everyone at Gwern Alyn knows this and are always ready to help me, which is another good thing about being here."
Michelle Williamson, a senior care practitioner at Gwern Alyn, refers to Ms Boiling as an 'inspiration' and says, "the residents she cares for all love her," adding, "we're delighted to have her here. She's friendly, eager to do the job and you can see her confidence building up all the time."
The next Communities for Work programme begins on 8 January. For more information visit: http://gov.wales/?lang=en
carehome.co.uk lists a whole range of jobs in the care sector. To look for a job click here