A 93-year-old ex-Chelsea FC player living at a care home in Berkshire got to relive the glory days of his professional football career by revisiting the grounds of his old stadium, Stamford Bridge.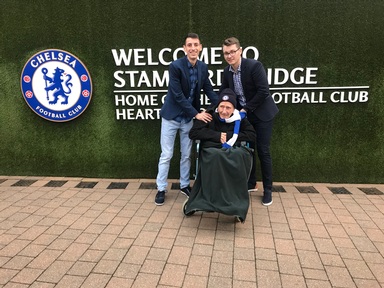 Care home resident Phillip McKnight arrived at the stadium wearing his Chelsea hat and scarf, accompanied by two of the home's 'football mad' nurses, Vali Joita and Gabi Cutoi. He then received the full 'VIP treatment' and was given a glass of champagne and a special meal in the Ex-Players Foundation Box.
Mr McKnight, known to supporters as Phil 'Corky' McKnight, is a resident at brighterkind's Hungerford Care Home; it was staff there who fulfilled his wish to visit the stadium as part of their Wishing Well scheme.
He said of his day: "I had a fantastic time, it was great seeing the grounds again and visiting London after such a long time. I was surprised how things had changed. It was exciting watching the game and being a part of it all again. And I was very happy to see Chelsea win. Thanks to Hungerford care home for a great experience."
Stamford Bridge, or 'The Bridge' as it is sometimes known, has seen plenty of changes since Mr McKnight played there after being 'demobbed' from the Royal Navy in 1946.
And it seems like the ex-pro's visit to the club was a lucky move for the Chelsea team on 28 January 2018; when the home team went on to beat Newcastle United 3-0.
Bella Balaci, manager of Hungerford Care Home said "Phillip was thrilled to be a part of it all again and really enjoyed the atmosphere. He got very excited every time Chelsea scored. He had a fantastic experience and really appreciated everyone's involvement. We all felt honoured to be part of making 'Corky' McKnight's footballing wish come true."
Mr McKnight, who was born in Camlachie, Glasgow on 15th June 1924, grew up to become a much-loved footballer. He played for Aloa Athletic before WWII and then moved onto Chelsea.
He stayed at Stamford Bridge for eight seasons before being transferred to Leyton Orient where he was a regular for seven seasons and a member of the Division 3 championship side 1956-57. This time was one of the highlights of Mr Knight's career, when his team famously scored over 100 goals in one season in 1956.
Later in his career Mr McKnight also held coaching and managerial roles at Orient, Hayes and Ruislip Manor.
Mr McKnight's visit to the club was part of brighterkind's Wishing Well scheme which encourages residents to look back at their lives and repeat fondly remembered experiences, or to have new ones.
click here for more details or to contact Hungerford Care Home