Edith Smith, who has just turned 109, has revealed that if she could go back and give her a younger self some advice, it would be to "make the most of things and enjoy every part of life".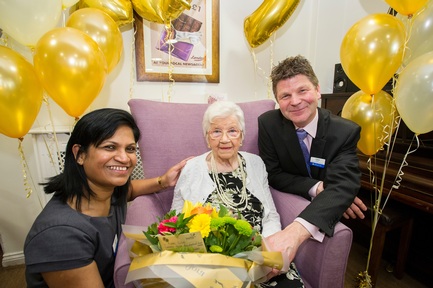 Edith, who lives at Lammas House Residential Care Home also wishes she had been able to spend "more time" with her first husband, as she sadly lost her partner Harold at the age of 55, when he died of lung cancer.
She was born in 1909 during the reign of King Edward VII, the year that Selfridges opened and when the artist Francis Bacon was born.
Edith celebrated her birthday surrounded by family and friends at the care home in Coventry, where she has lived since 2014. Up till then she lived independently at home.
When asked about the secret to her long life, Edith said: "It could have been gin and tonic or being busy, having a good family, playing tennis or dancing. It's amazing to be 109. I suppose I am very lucky."
Edith grew up in Bradford later moving to Coventry with her first husband Harold, who was an engineer in a reserved occupation during the Second World War. He was also responsible for looking out for fires started in the city by enemy bombs, leaving Edith to look after their new-born son Roger.
Edith didn't have an air raid shelter in her garden so rather than use the communal shelter in the street, which she says was "filthy and infested with rats"; she would "shield Roger from the bomb blasts by hiding under the dining room table".
Following the severe bombing of Coventry in November 1940, when the city was annihilated by German Luftwaffe, Edith and thousands of others escaped from the city.
Edith and Roger moved to a farm in Leicestershire to get away from the danger of the raids, where they lived for several years. After the war, Harold died of lung cancer at the age of 55. With a pension of just 50 pence per week she had to work as a bookkeeper for a company in Coventry.
Edith has always had a passion for dancing and this led to her meeting her second husband Harry at a local dance hall.
Edith's son Roger sadly passed away at the age of just 35 due to a brain haemorrhage, However her family has since grown into four generations with grandsons James and John and great-grandchildren Freya and Beth.
Rukmi Silva, home manager at Lammas House called Edith "a real lady" and said: "She has so much grace and elegance and is always immaculately presented, taking great pride in her appearance. She is so inspirational and we are enormously proud to have her here with us at Lammas House."
click here for more details or to contact Lammas House Residential Care Home