Lucky residents at a care home in Oxfordshire got to physically pick up a pair of Humboldt penguins called Widget and Pringle when they visited Newland House Care Home in Witney.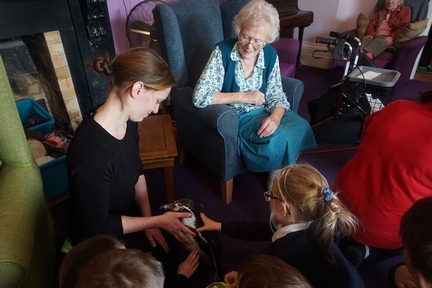 They were also joined by children from a nearby school, who asked the animal handlers questions, and enjoyed the company of the residents.
Residents were allowed to touch and hold the well-natured birds, as the interactive and sensory experience was designed for residents who have dementia to promote wellbeing and social participation.
The event was organised by Hartford Care to coincide with World Penguin Day.
The care home manager Chris Stimpson said of the day: "We chose to host the Penguins for World Penguin Day because it is something different that is unheard of.
"It's hard to take the residents to the zoo so we decided to bring the zoo to them. I am really pleased with how the day went because the residents got a unique, one to one experience that enriched their lives and brought a smile to their faces."
Also having fun with the penguins were 27 children from year 2 class of Witney Community Primary School.
The children were able to ask the Penguin Handlers, Maya and Paul, lots of questions including "what do penguins eat?", and "have they got any brothers or sisters?"
Teaching assistant, Mrs Bowles, from Witney Community Primary School said: "The children really enjoyed it and were able to ask lots of questions and learn lots. When we returned to School they didn't stop talking about it and were very excited for the chance to meet penguins up close."
The penguins belong to Amazing Animals, who are based at Heythrop Zoological Gardens in Chipping Norton. This private animal collection for the media industry takes animals that are deemed suitable into the community.