Children from a school in Wrexham have been bringing colour and glamour to the lives of residents at a care home by pimping up their bland zimmer frames.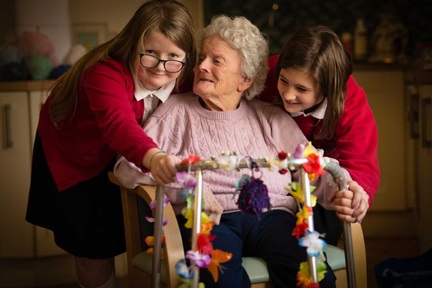 Customising residents' steel walking frames enables them to easily recognize which is theirs and also boosts their use of them, which reduces falls.
Sarah Edwards, artist in residence with Pendine Park Care Organisation which runs Hillbury House care home in Wrexham, organized the project.
She said: "National figures show the risks of falls in care homes is reduced by 60 per cent through the good use of zimmer frames. Each person who requires a frame has it individually measured to suit their own height.
"But of course in large a facility like Hillbury with so many zimmer devices under one roof it is quite easy for residents to mistake theirs for somone else's. That's what inspired us to come up with the idea of customising each zimmer so it is immediately recognisable by its owner."
Pupils from nearby Ysgol Bodhyfryd worked in pairs with the residents over three weeks, finding out the residents' likes and dislikes, former career, hobbies, family and social life.
Their findings were then used as the basis for drawing up a decorative design template for pimping up each resident's zimmer frame in a different style.
Ray Jones owned a record shop in Brook Street, Wrexham, for ten years and still loves listening to music of all genres. Consequently his walking frame has been given a cheerful musical theme, with 11-year-old Ethan Tyzack helping put together the design.
Ethan said: "It's been great getting to know Ray and chatting to him about his days at the record store. He's a really fun, friendly person and helped us a lot with some of the design ideas.
"We cut out cardboard in the shape of the old 45 singles records, to hang from the frame, and we're also working on some bird shapes, as Ray enjoys hearing the birds sing too.
"He also likes to watch football on the telly so we might incorporate some soccer themed decorations as well."
Ray has found it has been a "nice way for us to help them develop their art and design skills and, in turn, we all get a great looking zimmer".
Fellow Hillbury resident Margaret Newell loves the bright and cheerful flower themed design which the pupils came up with for her.
On having her photograph taken with eleven year old pupils, Ffion Haf Scott and Ruby Maddock, in front of the zimmer frame, she joked: "It's fantastic, a bit like me!"
The collaborative project has been a great way to stimulate pupils and enable them to see how art and design can really benefit people.
Ysgol Bodhyfryd teaching assistant Mandy Warner has also found "some good friendships have been formed along the way."
Ysgol Bodhyfryd's relationship with Hillbury House is long-standing, but normally a different group of pupils visit the home each week. However for this project the same group was allocated to the task over a period of three weeks, giving them more time to build up a rapport with the individual residents to whom they were assigned.
Erin Marshall, aged 11, found it to be a valuable and interesting experience, saying "I've really enjoyed getting to know the residents and hearing about their lives before they came to live here at Hillbury. It's something we'll remember for years to come."
Resident Gwen Davies Barrett immediately got on the phone to her son in Malta to tell him all about the new-look zimmer which included the Maltese flag.
"I love it," she said. "All the zimmers now have extra special meaning to us, there's no mistaking any of them!"
Hillbury House manager Cindy Clutton said: "This project has been a real joy because it has brought two different generations to do something that is fun but that also has a practical purpose.
"We value the intergenerational work with Ygsol Bodhyfryd and it is an important part of our work in building links with the community we serve."
click here for more details or to contact Hillbury Care Home