A famous tennis club is supporting talented youngsters by partnering with a care home chain and giving club access to those in residential, nursing and dementia care. Money raised from the project will support young players seeking to play the sport at a higher level.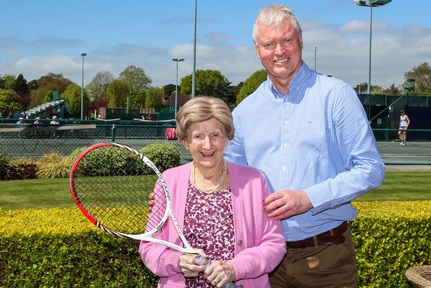 A two-year agreement with Bournemouth's West Hants Club sees residents of Colten Care homes being welcomed to watch games at the historic venue. Residents will also be able to use the club swimming pool.
In addition, Colten's clinical experts will host presentations for club members on aspects of elderly care and health, to promote wider understanding of fitness and wellbeing in later life.
Peter Elviss, Chief Executive of The West Hants Club, said: "We and Colten Care have a shared commitment to promoting health and well-being and so our partnership is a natural fit. With increasing emphasis on the importance of staying active and healthy into later life we are delighted to welcome them on board.
"At the same time, partnerships such as this provide financial help to cover coaches' fees, the costs of clothing and equipment, and scholarships for talented youngsters who may not normally have access to professional coaching and support."
The West Hants Club has a prestigious place in professional tennis. Both Fred Perry and Rod Laver played on its shale covered courts. Virginia Wade, born in Bournemouth, won the inaugural British Hard Court Championships there in 1968. She later went on to win Wimbledon in 1977.
This April saw the 50th anniversary of West Hants staging the first 'open era' tennis tournament, and the new intergenerational scheme was launched to coincide with the club's big birthday.
Only yards from where Virginia Wade and Ken Rosewall won their respective titles in 1968, visiting residents stood rackets in hand to survey facilities and take a tour round before a celebration lunch. Avon Cliff resident Anne Cardwell said of the day: "It was a beautiful sunny day and everyone was so welcoming. We all had a really lovely time."
Care home residents visiting the club in future will have the option to travel there with their families or on minibus trips.
As well as Avon Cliff, the partnership will benefit residents of the nursing and residential homes Canford Chase in Poole, Brook View in West Moors and Amberwood House in Ferndown. The forthcoming Bourne View home in Poole will be included when it opens in 2019.