An intergenerational care home in South London is the first in the Jewish community to be awarded an overall CQC 'outstanding', winning praise for the first-ever designated nursery within a care home environment and the "warmth, respect and empathy" of staff.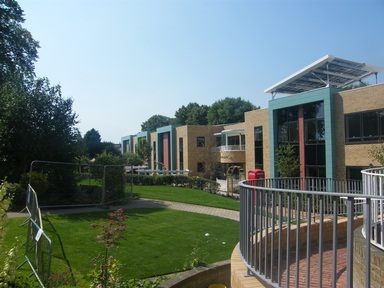 Nightingale House in Wandsworth joins the top one per cent of care homes nationwide, being rated 'outstanding' in three individual categories: for being Caring, Well Led, and Responsive.
Last year, Apples and Honey, the UK's first permanent on-site nursery in a care home was built in the grounds of Nightingale House. Its intergenerational approach sees children, parents and older people spending time together daily to enjoy things such as baking, storytelling and singing.
The home is run by Jewish charity Nightingale Hammerson, which have two homes in their group.
CQC inspectors said of Nightingale House: "It was evident by the amount of laughter, smiles and hand-holding going on between the children from the nursery and the people living in the home that they knew each other well and really enjoyed one another's company."
Inspectors also singled out the culturally-sensitive care and support for residents and their families, which helped the home and its residents maintain strong links to the wider Jewish community. One of the residents was quoted in the report as saying: "The bonus for us is that this is a Jewish home, so our faith which is really important to us as a family, is very much supported and celebrated here."
The CQC had high praise for the quality of care at the home, with the report stating: 'We received extremely positive feedback about the standard of care provided at the home from people living there and their visiting relatives and professional health and social care representatives. Staff consistently demonstrated warmth, respect and empathy in their interactions with people and their relatives'.
The report concluded that 'people were supported to do as much as they could and wanted to do themselves to retain control and independence over their lives'.
A nurse whose feedback was also included said: "I think it's the best care home and group of staff I've ever had the pleasure to work with… the staff clearly care about the residents."
Melvin Lawson, chairman of Nightingale Hammerson, added: "Nightingale is focused on creating and maintaining world-class centres of excellence. We strive to be the gold standard for what residential care homes should be.
"We are immensely grateful to our team and volunteers, and all our supporters who enable us to make our ambitions a reality. They, our amazing professional leadership and wonderful, caring staff, are the reasons that our residential care homes are the places where generations of Jewish families have chosen to live."