A care home experience coordinator in North West England has been recognized by the Independent newspaper for making life better for others and for being a driving force behind the Belong Crewe care village's Silver Pride event.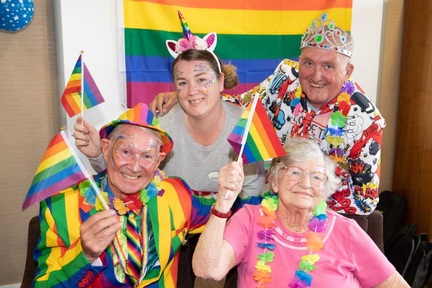 Natalie Ravenscroft, experience coordinator at Belong Crewe, was named on the Independent's Happy List 2018, which is made up of 50 outstanding people whose volunteering, caring, fundraising, mentoring, charity work or selflessness make Britain a happier place to live.
The Happy List was set up in 2008 as an antidote to the lists that celebrate status and honours people in the UK for doing extraordinary things for others with no thought of personal gain.
As Belong Crewe's experience coordinator, Ms Ravenscroft was the momentum behind Silver Pride, an event to celebrate LGBT+ culture for older people, with musical performances, fancy dress competitions and open mic acts. The person who nominated her said: "Natalie and the team created a fun, stigma-busting space for people to feel comfortable expressing who they are."
Ms Ravenscroft describes the event as being "about fun and entertainment as well as showcasing the care options open to older members of the LGBT community and creating a 'safe space'".
She revealed: "I was in total shock – I actually cried down the phone when I received the news! To feature as one of the 50 happiest people in all of Britain is such an honour; I feel so humbled and grateful to whoever nominated me. I still can't quite believe it!"
Mental and physical stimulation is vital for care home residents' health and wellbeing, with activity coordinators playing a crucial role in ensuring there is a range of meaningful activities on offer.
Ms Ravenscroft comes from a family of care workers, and realised in her late 20s that she wanted to work in dementia care and, "in particular, developing activities to improve the social wellbeing of those living with the condition".
She was previously a regional activity executive with a northwest-based care home group, and prior to that worked in a family-run care facility in Rhyl, North Wales.
Being an activity coordinator is "a very busy job" and Ms Ravenscroft says: "In a sense, it never really stops because you're constantly thinking of new ideas for activities."
"It's incredibly important to maintain momentum with the activities and events we plan, as keeping customers mentally and physically stimulated has a direct impact on their happiness and overall wellbeing."
For her it is a "dream job" as she "thrives on making people happy, organising events and delivering meaningful activities".
She says: "I get such a buzz out of pleasing people and seeing their reactions." Those interested in becoming an activities coordinator need to possess "empathy, good listening skills, and endless passion. You also need to be flexible and have the ability to think on your feet, as things seldom go exactly as planned," says Ms Ravenscroft.
She adds: "As an experience coordinator, I have the privilege of seeing how my work pays off in the happiness and wellbeing, both physically and mentally, of our customers at Belong Crewe, and if you're a people-person who thrives on making others feel good, then there's no better job in the world."
carehome.co.uk has a wide range of jobs listed on its site. If you are looking for a job in the care home sector click here