Aylesbury care home development and jobs boost announced by The Fremantle Trust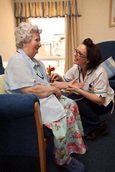 11-Oct-12
Article By:
Richard Howard, News Editor
Buckinghamshire-based charity and care home provider, The Fremantle Trust, have announced they are to collaborate with specialist care developer Castleoak and the CarePlaces Fund in order to build a state-of-the-art care facility in Stoke Mandeville, near Aylesbury, set for an autumn 2013 opening.
The Fremantle Trust's vision for the site, to be named Fremantle Court and located in rural surroundings, is for the new facility to become the charity's flagship home, purpose-built to offer skilled care for up to 90 residents, while also serving as a centre of learning for the provider's general care workforce.
Care provision available will include residential care, nursing and respite, alongside specialist dementia support, for which the Trust have adopted the University of Stirling's toolkit for achieving best practice.
The charity are also thrilled to be creating more than 100 jobs at the site, with a range of management, care and support roles to become available.
Carole Sawyers, The Fremantle Trust chief executive, comments: "As exemplars in the care industry, we are thrilled to be extending our portfolio of services creating valuable employment opportunities for the local area.
"With an exceptional team, we ensure the provision of first class care for residents and service users and look forward to attracting highly skilled professionals who are passionate about excellence in care."
The CarePlaces Fund was launched in 2011, as a joint venture from developers Castleoak and private investment firm Bridge Ventures, dedicated to achieving significant care sector growth. Castleoak group sales director, Simon Greenstreet, says turning projects like Fremantle Court into a reality is precisely what the Fund was started for, commenting:
"Projects like this are exactly why we added a development arm and embarked on a funding partnership, which help operators continue to provide much-needed, high quality care homes in excellent locations. We're particularly pleased to see the start to this, our first development for a not-for-profit care provider."