Nadra Ahmed is certainly well qualified to head up the National Care Association and talk on all matters relating to care.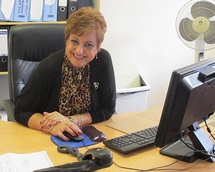 Not only has she more than 30 years of experience in the care sector – "I learned all about the business from the ground up and through sheer experience grew into it" – but until recently owned a residential care home for older people in Kent. Awarded an OBE for her services, she has served on several government task forces and is currently the vice chairman of Skills for Care, a highly regarded training organisation that specialises in adult social care.
This is all to the good as the NCA has a wide remit, not only does it lobby the Government to benefit its care provider members (which includes providers that deal with dementia, learning disabilities, mental health issues as well as older people and children, the physically handicapped and home care) and the people in their care, but it also represents members and their service users nationally, to promote high standards of care, and supports local associations and members.
Putting the sector to rights
At what is widely perceived to be a critical time for health and care services, the pressures on the whole system have never been greater – so it is vital that the powers that be get to grips with the issues. "The main problem is that the Government hasn't got its head around the importance and value of social care. The fact that social care has become the backbone of the country's community-based system is a testament to innovative care providers," says Mrs Ahmed.
"Preventative care is talked about endlessly, but not properly funded. If we truly believed in prevention then people would be properly supported thereby preventing their admission to hospital and taking up an acute bed. Older people who believed in a system that promised support from cradle to grave are being badly let down.
"That said, both local and national Government needs to put its money where its mouth is. Providers are constantly let down by the funding arm of the care sector."
And this, of course, implicates the thorny issue of pay levels for care workers. Should all care workers' pay be adjusted so that it equals the Living Wage? Mrs Ahmed says: "They should all be getting minimum wage, but aspiring to the Living Wage. But until commissioners base their calculations on the Living Wage this will not happen I'm afraid. At the moment they use only the minimum wage as their benchmark. When commissioners commission care so they recognise the Living Wage as the benchmark, we can start to move in the right direction."
Better training
Mrs Ahmed is nevertheless optimistic about the long-term future of the care sector. "Despite all that we hear, the majority of people receiving care services are really well provided for," she says. The problem with the sector is as much as anything to do with its public image, battered as it has been in recent times. "We need to get our heads around how to develop the workforce through better training and recruitment policies and thereby attract better people … such measures will raise everyone's self worth," she adds. And professional PR intervention at an industry-wide level would be helpful. "If Saatchi & Saatchi wanted to work with me I'd be delighted."
As well as training, Mrs Ahmed is keen to foster the vocational aspect of care. She says: "I realised early on that I enjoyed working with older people – when I was at school I always chose to visit old people as part of voluntary community service – and I believe that it is essential that 70 per cent of what you want to do is part of a passion: this means that there needs to be a vocational element when working in a caring role."
Current views
More than willing to comment on the debates of the day, Mrs Ahmed is in no doubt as to whether CCTV is a good thing in care homes. "Essentially, CCTV creates greater distrust between the service user and the service provider. It runs counter to the idea of speaking up and having the complaint listened to, investigated and resolved.
"I am saddened that the CQC has gone down the route of publishing guidance for people who are thinking of using cameras for monitoring care because I think it promotes that as being the best way to resolve concerns, bypassing the creation of a strong bond between providers, service users and family and friends."
Another current topic on the lips of many in the care sector and beyond is whether directors of care homes should be made accountable for lapses in the quality of care. What is the NCA view on this? Mrs Ahmed says: "This is a direct result of Southern Cross going down and the Winterbourne View scandal and I understand the reason behind it. However, there is a difference between the not-for-profit organisations, which often have volunteers on their boards that have no financial interest in the care home and the commercially-run care homes where the directors are financially involved.
"The Care Act is addressing some of these concerns – all directors, for example, must be checked – and on balance I would say the directors of a commercially-run care home should be liable if they have not created a sustainable strategy, which takes into account budgets necessary to support the delivery of a quality service."
Future plans
Mrs Ahmed's role as NCA chair continues to interest and reward her in equal parts. She says: "Most of all I love watching our providers become innovative and moving the bar. The rate of change has been so rapid in recent times that they have almost had to reinvent themselves every couple of years. I also like representing the views of all our members, be they care professionals or members of the public.
"We want to continue to grow in strength – we want to work with managers, not just the owners of care homes. We want to be able to reach more people including families and friends of those receiving care – and it's our aim to become a one-stop shop."
Interesting facts
First job: "I had just started work as a teacher, but was headhunted after two months to be a community education and project manager in central London"
Favourite book: Pippa Gregory's The Other Boleyn Girl
Favourite film: Sabrina – with Harrison Ford
Favourite piece of music: Anything by Michael Buble
Best present received: My grandson
Last holiday: A couple of months ago now – a trip to Centre Parks with my children and grandchildren