Staff from Aden Court care home in Huddersfield have made their own charity calendar to raise money for their residents, emulating the hit film Calendar Girls.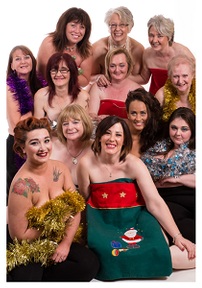 'Calendar Care' features staff members discreetly posing nude with a variety of props and household items which have been strategically placed.
The calendar was produced with the help of family members and local volunteers.
Lynn Williamson, general manager at Aden Court Care Home, said: "What started as a conversation about what people wore to bed, has turned into a really fun adventure. Making the calendar has been a joyful experience that has proven the warmth and laughter which is so often apparent at Aden Court.
"We would like to thank everyone who got involved in the making of the calendar and hope to raise lots of money for our residents' fund."
The film Calendar Girls, which came out over a decade ago, has over the years sparked a whole range of charity calendars from teachers to firefighters going naked to raise money for charity.
The film starring Helen Mirren and Julie Walters was based on a true story about a group of Yorkshire women in the Women's Institute, which produced a nude calendar to raise money for Leukaemia Research.
Aden Court is part of New Century Care, a 40 bedded home which provides residential and nursing care for residents.
'Calendar Care' can be purchased by contacting Aden Court.