A care home dog has become a muse for the manager of a Wrexham care home, who has produced a cake version of the white Samoyed dog, Daisy.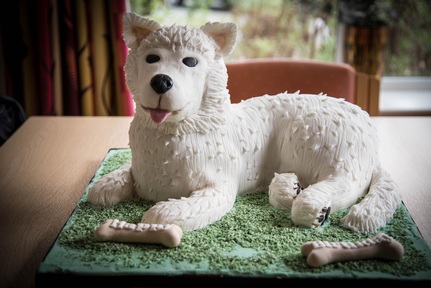 The 18-inch canine creation, was commissioned by Mario and Gill Kreft, who own Bodlondeb care home. Their Samoyed dogs, Daisy and Rosie, are regular visitors to the home.
Ann Chapman, a registered mental nurse, is a relatively new convert to the realm of baking, taking up the craft at the age of 61, having spent an entire lifetime working in the care sector.
Ms Chapman said: "I took up baking relatively recently to give me an interest away from what can sometimes be a quite stressful job and to do something a bit special for my workmates and our residents at the home.
"I started off by baking bread and used to take it into my local pub at Brynford near Holywell where I'd ask the regulars to taste it and mark it out of 10. They seemed to like it, so I started bringing bread and cakes I'd also baked at home, into work at Bodlondeb.
"Discussing daily concerns while you're eating something tasty together is just a nice way of doing things.
"I also love to share my baking with the residents and they seem to like it too. Just because someone suffers from dementia doesn't mean they can no longer have the nice things in life like eating cake."
Ms Chapman's cakes have proved so popular that she has now been commissioned to make all kinds of different cakes, including ones shaped as handbags, shoes, football boots and teacups.
The 'Daisy' cake is however her most ambitious to date.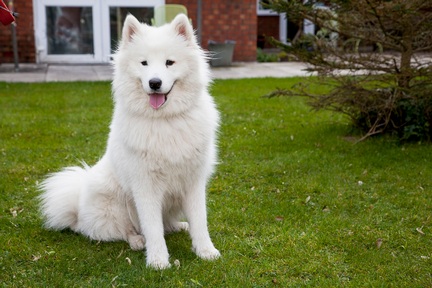 Mario Kreft said: "Our enrichment programme incorporates the arts and a host of other activities and Ann often bakes bread with the residents at Bodlondeb. We always knew she was extremely talented when it came to the art of baking marvellous cakes but she's definitely surpassed herself this time.
"Making, and most importantly eating these wonderful creations is all part of our programme to enrich the lives of our residents, and also our staff and I wanted something which took the whole process a step further by creating a confectionary version of one of our beloved Samoyeds.
"The cake is so incredible that it's almost too good to cut but I'm sure that's what will happen in the end as everyone can't wait to taste it."
click here for more details or to contact Bodlondeb (Pendine Park)