London Mayor Sadiq Khan praised the charity Jewish Care as an "inspiration to us all", at its annual fundraising event which raised over £5m.
Mr Khan addressed over 1,000 people at the dinner, saying: "What's easy to see is that the values that are the basis of Jewish Care's work are the values that are rooted in your religion. As a community, you care for one another, you look out for each other – something that's an inspiration to us all.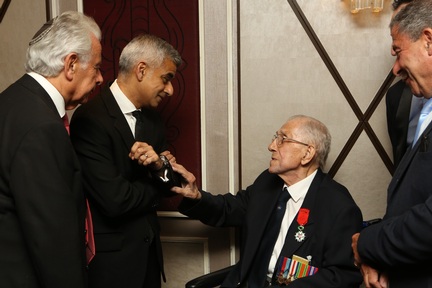 "Jewish Care is an incredible charity and one that I'm proud to support. I've had the pleasure of visiting Jewish Care's Wohl Campus in Golders Green and have seen first-hand the great work the charity does."
Jewish Care runs 11 care homes mainly in London, with one in Essex and one in Brighton.
Mr Khan spent a considerable amount of time chattering to 95-year-old war veteran Hyman Pittal, who told the Mayor about his collection of wartime medals; especially his coveted French Légion d'honneur medal, awarded to him by the French government for bravery in the D-Day campaign in during World War II.
Mr Pittal, who attended the ceremony with his son David and daughter Hilary, explained to the Mayor how Jewish Care has kept his family together.
Rosalind, his wife of 71 years, was taken ill with a stroke and went into residential care at Jewish Care's Lady Sarah Cohen House. It was only three weeks later that Mr Pittal joined Rosalind at the home, and they have remained there together ever since. Mr Pittal said: "Jewish Care kept my wife and I together when we both needed each other and provide us with the care and support we need".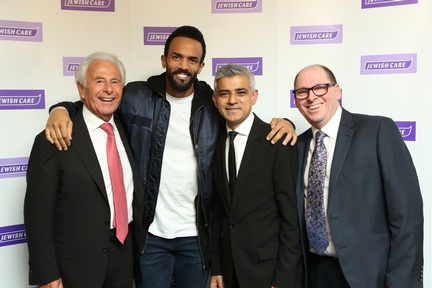 The evening ended on another high with a performance by singer Craig David, who donated his time for free after visiting a Jewish Care home in Golders Green where a long-time acquaintance of his was being looked after.
"Visiting a Jewish Care home had a very special meaning for me, as my manager of 17 years and close friend Colin Lester's mother is a resident at Otto Schiff Care Home in Golders Green.
"The dedication and care I witnessed was incredible as helping to restore elderly and sometimes sick people's dignity is a difficult task. This is an amazing environment," he said.
After the event, Jewish Care Chairman Steven Lewis, said: "Thanks to the generosity of our guests, last night we have raised over £5m, this is a great start towards meeting our revenue fundraising target of £15m for the year ahead".
Jewish Care is the largest health and social care charity for the UK's Jewish community providing a wide range of services for older people, people with disabilities, mental health needs, visual impairment, as well as Holocaust survivors and refugees.