Elizabeth House care home in Bognor Regis has been selected from over 80 care homes as Shaw healthcare's top reviewed care home.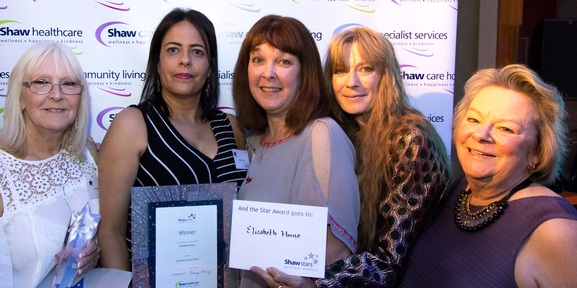 The care home won the 'carehome.co.uk Award' at Shaw Healthcare's annual Shaw Star Awards.
Davina Ludlow, chair of the care reviews site, carehome.co.uk, said: "It was a real honour to give this award to Elizabeth House. It is so encouraging to see care homes like this one getting so many good reviews.
"We feel the reviews we get from care home residents, as well as their friends and family, are crucial for building up a true picture of a care home. Choosing a care home can be tough and so honest reviews from people receiving care can really help."
Elizabeth House currently has a review score of 9.7 on carehome.co.uk. Reviews of the home say 'staff are amazing and very welcoming' and 'everyone is so friendly which makes it more like home'.
The homes are rated on certain elements including facilities, care, cleanliness, whether they treat residents with dignity, food & drink, staff, activities, management and value for money.
Marian Drake, manager of Elizabeth House, said: "Receiving such a high score on carehome.co.uk, as well as the Shaw Star Award, is testament to the hard work and dedication of every member of staff.
"At Elizabeth House, we specialise in supporting elderly people living with dementia, enabling them to remain as independent as possible through activities and events in and away from the home."
She added: "This can be difficult, as each resident requires an individualised programme of care based on their own needs, but is something that our experienced staff are well versed in and provide every day, so I'm delighted to see the home being recognised in this way."
Elizabeth House was recognised alongside other award winners as more than 200 people gathered at The Chesford Grange Hotel in Warwickshire for Shaw healthcare's annual awards ceremony, which celebrates the achievements of outstanding staff members from amongst the 4,600 care workers across Shaw's 80 UK facilities.
Jeremy Nixey, chief executive of Shaw healthcare, said: "We're now in the ninth year of the Shaw Star Awards; an evening which truly gives us the opportunity to recognise staff across the company for their hard work, dedication and genuine care that they put into their jobs.
"It really is an achievement to be shortlisted, let alone take home an award, as all nominations come from fellow colleagues, those who use our services and their families. It's a night of celebrating the real difference that these incredible individuals make to the quality of care provided, whether in a small, everyday task or the overseeing of an entire home."
Shaw healthcare is one of the UK's leading health and social care providers. It provides care to individuals in nursing and residential homes, hospitals, supported living arrangements, extra care schemes and domiciliary care settings.
Other winners of the Shaw healthcare Shaw Star Awards were Hayley Harwood, The Martlets, East Preston, West Sussex - for Wellness, Maureen Willavoys, Urmston House, Bristol - for Happiness, Josey Davies, Froome Bank, Bromyard, for kindness, Alison House, Ledbury ICU, Ledbury – for clinical excellence, Julie Chinnick, Abbott House for Exceptional Leader, Marian Parfit, Ty Bryngoleu - Administrator of the Year, Annie Gong, Shaghai, China & Wan Nowakowski, Burleys Wood, West Sussex - Outstanding Management Contribution, Waverley house, Leominster - Champion Service.