A 91-year-old has revealed that the secret to his "long and happy marriage" is to "let the wife be the boss".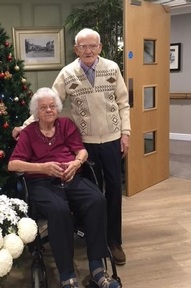 Seventy years ago on Christmas Day, Richard Hills married Joan at St John's Church in Hammersmith.
Last April, the couple who had been virtually unseparable since they met as teenagers, were forced to live apart, with Joan, 89, moving into Harrier Grange Care Home in Andover as Richard was no longer able to care for her at home.
Richard, who spent a short time in the Royal Navy, before working in the agricultural sector, joked: "The secret to a happy marriage is being kept on the ball and chain."
He added: "But seriously the best thing that ever happened to me was meeting and marrying my beloved Joan.
"Family has always been very important to us and we wanted to give our children the best lives possible, which has helped to keep our relationship strong."
The couple have two sons, Paul, now 67, and Gary, 63, along with four grandchildren and five great grandchildren.
Joan, who had various jobs including working at factories making radio components during the Second World War, said: "Richard has never been one to quarrel or lose his temper and is calm in every situation. It is simply not in his nature to bite back."
Richard visits Joan nearly every day at Harrier Grange. He describes the home as "lovely" and said: "There is a really welcoming atmosphere which makes me feel at home. The staff are very friendly, the food is exceptional and the activities and events are great fun."
Harrier Grange care home manager Kay Kelly said: "We would just like to say a huge congratulations from everybody at Harrier Grange to Joan and Richard on their 70th wedding anniversary. They are a fantastic couple and we wish them many more happy years together."
click here for more details or to contact Harrier Grange Care Home