A much-loved pet dog, adopted by a care home in Bury Saint Edmunds, has encouraged residents to leave their rooms and exercise.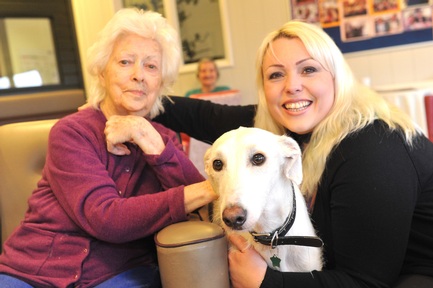 Mildenhall Lodge was rated 'outstanding' by the Care Quality Commission (CQC) after the care home introduced a voting system so that residents could be involved with decision making. A recent vote has seen the residents adopt 'Sinbad', who has now joined the team as 'canine relations manager'.
"I love having Sinbad here," said one resident. "He reminds me of my last pet although my dog was a bit smaller and not so well behaved. When I feel well enough I sometimes accompany the team to exercise Sinbad, which I really enjoy".
A care worker added: "It's astonishing how Sinbad makes people light up. One resident who doesn't like to leave their room very much will come downstairs specifically to have a cuddle with Sinbad. The dog even has his own care plan for worming and flea treatments."
The ethos of the Mildenhall Lodge is one focused on residents, with the inspector's report highlighting that care planning is "extremely person-centred".
Residents are empowered to be involved in all aspects of running the home, with 'resident ambassador' Jean Fincham now part of the recruitment process. During their visit, inspectors saw Ms Fincham interviewing new and prospective team members alongside the home management team.
Care home manager Katy Hughes has also introduced a 'Twilight Club' to support residents living with dementia who do not have regular sleeping patterns. The club offers the chance to have a 'cuppa', a conversation and some meaningful activity.
"If someone can't sleep, what is the point of staff saying 'go back to bed?'" she said.
"We strive to create a welcoming home from home feel at Mildenhall Lodge, and I'm so pleased our continued efforts have been recognised by the CQC's inspectors. Everyone here works incredibly hard to provide residents with compassionate, person-centred care, and to be rated 'outstanding' shows just how committed the team is to making a positive difference to residents' lives each and every day."
She added: "I'm extremely proud of our team and I would like to say thank you for their hard work and dedication, which I know is also greatly appreciated by residents and their families."
Mildenhall Lodge provides accommodation, nursing and personal care for up to 60 older people and was rated outstanding on 24 January.
For more information on the CQC report go to: www.cqc.org.uk/location/1-1465022022?referer=widget3