Health and Social Care Secretary Jeremy Hunt has launched his blueprint for reforming the social care system, promising the much anticipated Green Paper in the summer will "kick start the vital debate" into social care funding.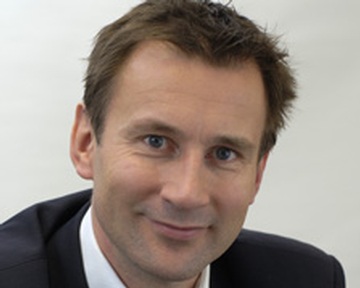 Speaking at the British Association of Social Workers conference, he announced a joint NHS and social care 10 year workforce strategy, as well as a £1m pilot scheme in Gloucestershire, Lincolnshire and Nottinghamshire so every user of adult social care receives a joint health and social care assessment and care plan.
He also confirmed there would be a cap on costs to bring more equity to the way people have to pay for care, as currently "people's financial wellbeing in old age ends up defined less by their industry and service during their working lives, and more by the lottery of which illness they get".
Mr Hunt thanked health and social care staff for their hard work as "they struggle with fragmented services coming under unprecedented pressure" and warned that the NHS is coming under increased pressure because of delays caused by social care.
He said: "Too many people experience care that is not of the quality we would all want for our own mum or dad.
"We need a relentless and unswerving focus on providing the highest standards of care – whatever a person's age or condition. This means a commitment to tackle poor care with minimum standards enforced throughout the system so that those using social care services are always kept safe and treated with the highest standards of dignity and compassion."
'Green Paper will jump-start vital debate'
However he added: "Resolving this will take time. But that must not be an excuse to put off necessary reforms. Nor must it delay the debate we need to have with the public about where the funding for social care in the future should come from – so the Green Paper will jump-start this vital debate."
His speech, the first by the Health and Social Care Secretary since his Department was given full responsibility for social care in January 2018, sets out the seven key principles to reform social care which will be detailed in a Green Paper to be published in the summer.
He acknowledged the long wait by the care sector for reform, saying: "Now no-one could accuse this or any government of not talking about the issue. In the past 20 years there have been five Green or White Papers, numerous policy papers, and 4 independent reviews into social care. So it would not be unreasonable to expect scepticism about yet another one this year - and as the new Health and Social Care Secretary I do rather feel the weight of stalled reform programmes on my shoulders."
Last year, the Conservatives even put reforming social care funding as a key pledge in its election campaign.
However, Theresa May quickly did a U-turn after her hastily drawn up plan to introduce a 'death tax' came under fire. The plan would have seen people receiving home care paying, if they had over £100,000 in assets which would include selling their house after their death.
This policy of paying after you die, is thought to be one of the reasons the Tories nearly lost the General Election. Halfway through the election campaign, Theresa May instead promised to cap the cost of care. Since this, the Government has been silent on the subject until now.
Jeremy Hunt's seven principles of reform are: quality and safety in service provision; integrated care with the NHS and social care systems operating as one; the highest possible control given to those receiving support; a valued workforce; better practical support for families and carers; a sustainable funding model for social care and greater security for all.
Social care workforce gap
Dave Eaton, policy and public affairs manager at the International Longevity Centre - UK (ILC-UK) welcomed the announcement of a joint NHS and social care 10 year workforce strategy, but added: "I would urge the Health and Social Care Secretary to ensure that the needs of our rapidly ageing population are not trumped by the Government's net migration target.
"Research conducted by the International Longevity Centre – UK (ILC-UK) and Independent Age has found that in a low-migration scenario, where the social care sector remains as attractive as it is at present but the Government delivers on its commitment to reduce levels of net migration, there will be a social care workforce gap of more than 750,000 by 2037.
"Even in a scenario where there are high levels of migration and the care sector becomes more attractive, the social care gap will be as big as 350,000 people by 2037."
In his speech Mr Hunt also called for "a partnership between the state and individuals" saying the Green Paper will bring forward ideas which will look at how we better "risk-pool" for people with more complex care needs that are disproportionately financially affected.
Commitment needed on funding
Jeremy Hughes, Alzheimer's Society chief executive, called for the Government to make a commitment on funding to back up the seven principles.
He said: "Without the necessary funding, vulnerable people will continue to struggle needlessly. By 2021, a million people in the UK will have dementia, and we need urgent action to create a system that can meet that challenge."
In his speech, Mr Hunt conceded that the current charging system for social care is "unfair", saying: "If you develop dementia and require long-term residential care, you are likely to have to use a significant chunk of your savings and the equity in your home to pay for that care. But if you require long-term treatment for cancer you won't find anything like the same cost."
Simon Bottery, senior fellow for Social Care at The King's Fund, said that the Government's task following the speech is "translate it into action, which is likely to include the need for legislation. There is a long history of politicians failing to translate positive words on social care into meaningful change, but it is essential that this time the government finally delivers it. To achieve lasting change, it will be vital for politicians from across the political spectrum to come together to develop a cross-party consensus".
He added: "It is disappointing that Mr Hunt did not mention the urgent need for short-term funding. As important as long-term reform is, the government also needs to find more money to address the £2.5 billion funding gap the social care sector faces by 2020."