A new GP service offering support to care homes seven-days-a-week has reduced emergency hospital admissions by almost 40 per cent, a health think-tank has found.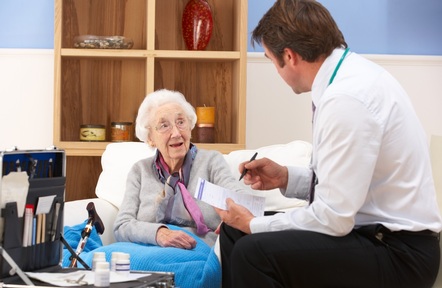 According to Nuffield Trust, the Health 1000 primary care service has also reduced hospital bed stays by as much as 50 per cent in three years. These reductions in admissions are valued at up to £1,000 per patient per year.
The largest reductions happened during the last three months of a person's life.
Nuffield Trust senior research analyst, Chris Sherlaw-Johnson, said: "When social care and hospital services are under severe pressure it is encouraging to have found a service that appears to show real benefits for nursing home residents and staff.
"This research shows how primary care may be able to take the burden off local hospitals as well as offering better quality of care in a more comfortable environment."
According to the British Geriatrics Society, people residing in care homes generally have more complex health care needs than the average older adult, yet their experiences of health care services are of variable quality.
In particular, they say the provision of primary care to care homes is "often reactive", with "little in the way of continuity". As a result, residents often have a "poor experience, receive sub-optimal medication and have frequent unplanned admissions to hospital."
Care home residents now have around 50 per cent more emergency admissions than the general population aged over 75.
24/7 GP support
Funded by the Prime Minister's Challenge Fund bid, Health 1000 gives care homes access to GP support from 8am–8pm, seven-days-a-week, as well as training and advice for staff and help from a geriatrician.
Four nursing homes across the London boroughs of Barking and Dagenham, Havering and Redbridge have taken part in the £400,000 pilot scheme, supporting over 400 residents with complex health needs.
Evaluation by the Nuffield Trust suggests the scheme has already resulted in a 36 per cent reduction in emergency hospital admissions and reduced emergency bed days spent in hospital by 53 per cent.
Previously, lack of timely advice from a medical professional with good knowledge of the homes meant staff working were unwilling to take a risk and therefore were more likely to send a resident to A&E.
When interviewed by the report authors, staff said they now felt better supported and more confident in managing risk as a result of having immediate access to GP advice via phone and the certainty of a regular weekly visit from a GP who knew the home, staff and residents.
There were also noted improvements in medicines management, enabling quicker access to medicines. Reductions in waste were achieved through medicine reviews and deleting unnecessary repeat prescriptions.
'You might not need it, but you know it's there'
Older people involved in the scheme commented: "Just offering to get someone (GP) to come and see you makes you feel so much better. You might not need it, but you know it's there."
"GPs can make you feel better in yourself just by being there, and you know that they're taking a real interest. That's the most important thing."
However, the report authors note that the success of the new primary care service depends on the quality and continuity of relationships developed between GPs and nursing homes.
Mr Johnson added: "We don't know about the sustainability of these findings in the longer term and organisations wanting to replicate the service in their own area must note that success relies on building and maintaining effective relationships between staff and GPs."
For more information go to: www.nuffieldtrust.org.uk/research/transforming-health-care-in-nursing-homes-an-evaluation-of-a-dedicated-primary-care-service-in-outer-east-london