John Starbrook, aged 87, was the oldest runner in this year's London Marathon, completing it in eight hours and 21 minutes.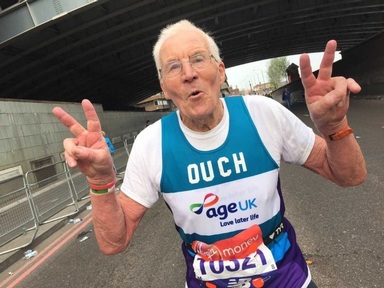 John, who was fundraising for Age UK, ran the London Marathon for the 33rd time. He began running marathons to fundraise for Age UK, back in the 1980s when he was 53. Since then he has raised over £40,000.
The 87-year-old has four grandchildren and has been married to his wife, Judy, for 54 years. He is a member of a local running club and is also a keen swimmer and gym-goer.
He said: "I've always loved sports and I've been active since a young age. I've also done sky dives in between marathons – it's all a bit of fun!"
John added: "I'm so pleased to be this year's oldest runner. It means a lot to me to be doing this for Age UK – they do brilliant work and they've supported me so much in everything I've done.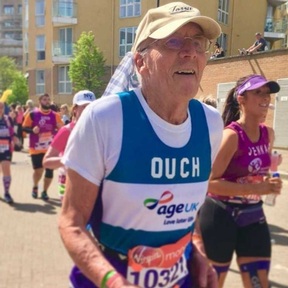 "I love doing events like this, they keep me fit and healthy and even better it's all raising money for something that's so important to so many people."
The oldest person ever to complete the London Marathon, which took place on Sunday 22 April, was Fauja Singh who completed the course in 2004 aged 93.
Caroline Abrahams, charity director at Age UK, called John a "huge inspiration" and said: "We were so honoured to have John running for us. Keeping active in older age is so important and John is doing just that. Marathon running isn't for everybody but there are plenty of other things we can all do to keep moving whether it's walking, dancing, gardening – the list is endless, as are the benefits.
"John's an incredible fundraiser and we are so grateful for all the support he has given Age UK over the many years."
To support John's fundraising efforts click here