Innovative dementia care home opens in Newark
Date Published:
01 Oct 2013 @ 10:55 AM
Article By:
Nina Hathway, News Editor
A purpose-built care home for dementia patients that features state-of-the-art facilities has been completed by care home property experts Bullock.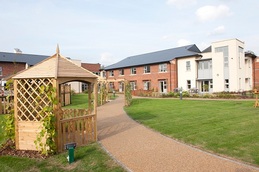 Costing £3.4million, Lancaster Grange Care Home, which is located on the Fernwood Park Estate in Newark, Nottinghamshire is considered by its owner Barchester, one of the UK's largest healthcare providers, to be one of its most important dementia care homes to date.
Kenneth McKenzie, director at Barchester said: "We are immensely proud that Barchester has been able to make such a significant and considered investment in this kind of facility that will not only change residents' lives for the better, but will also help influence the way the industry provides support and accommodation for older people and those living with dementia."
The 60-bed care home will provide long- and short-term accommodation along with assessment and respite facilities for those suffering from various stages of dementia.
Special features that will provide a more calming atmosphere for residents include doors integrated into partition walls and carefully selected paint colours to sooth and reassure. The care home also incorporates large open plan areas including lifestyle kitchens and laundries where residents can engage in everyday tasks and socialise. Other notable features include glass atriums that provide naturally lit seating areas, landscaped gardens and extensive use of the colour yellow for decoration because it is perceived as a stimulating colour for dementia patients. Outside there is a fully enclosed, secluded sensory garden, including planting areas where residents can put their horticultural skills to use if they wish.
Duncan Williams, regional director at Bullock said: "Lancaster Grange is a hugely important development for us. Many of its features, we believe, are starting to shape the way centres that care for people with dementia are constructed and we will be working in partnership with care providers on similar schemes to make sure, where possible, these design elements are included as best practice."