Dragon's Den Star Levi Roots has revealed that playing reggae tunes at a cafe for people with dementia was one of his 'hardest gigs'.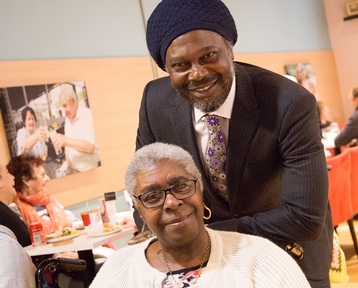 The charismatic entrepreneur and Reggae Reggae sauce inventor chatted with vulnerable adults and people with dementia at the Mission Café in Bromley, South London, and played the catchy 'Reggae Reggae' song, and Bob Marley's 'Three Little Birds'.
Mr Roots was emotional about performing for people with dementia, saying: "Everyone was excited, as was I, but I was also a little bit scared to play for my elders because if they accept you, you know you are loved. I am so glad they accepted me today.
"It was brilliant. Playing for an audience like this is one of the hardest gigs you can get as you want to be able to inspire them – they have certainly inspired me."
Cafe-goer Carol Mullins was clearly a fan of Mr Roots' performance. She said: "What a lovely afternoon. I'm a big fan of Levi and his Reggae Reggae sauce – meeting him made me feel like a teenager again!"
The Mission Dementia Café, run by the charity Mission Care, is the UK's only dementia-friendly café open to everyone, all-day, six days per week.
With the dementia friendly café, Mission Care are doing their bit to help combat loneliness for those who have the condition.
It has been shown that being isolated from the community is becoming a serious health risk for many older people, and in January of this year, it was announced by Government that Tracey Crouch was to become the UK's first Minister for Loneliness. This was a direct result of the legacy of the late Jo Cox.
Following National Conversation Week, Mr Roots also spent the afternoon chatting with residents of two of Mission Care's homes, Love Walk and Greenhill, as well as sharing his stories with local members of the community.
Mr Roots, whose real name is Keith Valentine Graham, first shot to fame after appearing on the nation's TV screens on Dragons' Den in 2007.
He won over entrepreneurs Richard Farleigh and Peter Jones with a performance of a jingle for his spicy barbeque sauce, and even though the reggae musician didn't have a firm grip on his sums, they took the unusual step of investing £50,000 in him.
Hannah Jones, marketing manager at Mission Care said: "It was a privilege to have Levi come and speak to some of our residents as well of members of the local community and treat us to some music.
"Mission Cafe prides itself on being a welcoming, friendly place where everyone can come together, and it was wonderful to share this experience today."