Tonic Housing, which revealed plans for a LGBT+ care village three years ago, has confirmed it is currently looking at sites in London.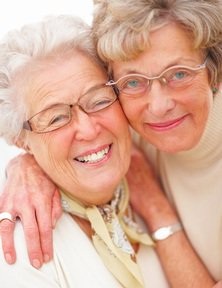 The organization which was set up with the aim of boosting quality of life for older LGBT+ people in Britain, has also appointed a chief executive to lead the project.
Anna Kear, who is former executive director of UK Cohousing, said: "Despite the advances in LGBT+ rights, statistics showing that 45 per cent of older LGBT+ people have experienced discrimination when accessing social services and 73 per cent are uncomfortable disclosing their sexuality to care staff indicate that there is still much work to be done.
"I'm looking forward to leading Tonic as it develops new housing and services to increase wellbeing by reducing the social isolation and loneliness experienced by so many older LGBT+ people."
Tonic Housing first announced its intention to create the UK's first LGBT+ care village back in 2015. Since then it has secured the backing of five of the UK's largest trusts and foundations, Barrow Cadbury Trust, Comic Relief, Joseph Rowntree Foundation, Trust for London, and Tudor Trust.
There are around a million LGBT people in Britain over the age of 55 and research has shown that many people living in care homes feel they have to return 'to the closet' after being 'out' most of their lives due to fear of prejudice and discrimination.
James Greenshields, director of Tonic Housing, said: "Our goal is to build the first residential retirement scheme in London where older members of the LGBT community can feel safe and secure at a time of greater vulnerability. As well as incorporating affordable housing, the scheme aims to have a broad appeal to all age groups within the LGBT community and beyond with relevant amenities and resources.
"Our vision extends beyond this. We want the first Tonic Centre to be an exemplar of best practice; a place where people and organisations across the country can learn about what it takes to build an inclusive environment for older LGBT people, which supports living a fulfilling and happy life, until the end of one's life."
Mr Greenshields revealed that they still have to find a preferred site, saying "we have looked at seven sites across London, we've met with five leading commercial developers, and spoken to officers and politicians at ten inner London councils.
"We have London-wide support through the offices of the Greater London Authority and Transport for London. Despite Brexit looming, the London commercial property market remains remarkably buoyant so we've learnt rapidly to understand our value to both councils and developers. As many of them have put it to us, Tonic Housing is one of the more exciting development propositions in London at the moment. Good sites come to those who wait."
Tonic Housing is now collaborating with igloo Regeneration, one of the UK's leading responsible real estate businesses with its executive chairman, Chris Brown, saying: "It's a privilege to partner with Tonic to deliver LGBT+ community-led older people's housing. The strength of support from London local authorities and the GLA has been unprecedented in my experience."
Tonic is hoping to announce the site for its care village later this year. For more information about Tonic's LGBT+ care village go to http://www.tonichousing.org.uk/