The clinical manager of a group of south coast care homes has won a prestigious merit award on a nursing fellowship course, and in the process helped one care home dramatically reduce falls by a third.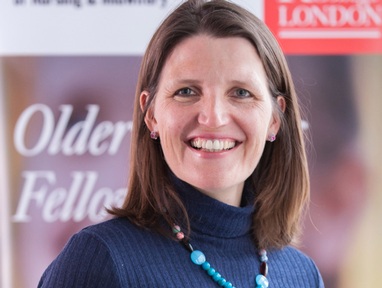 Lindsay Rees, a recent Masters-level graduate of the UK's top university for nursing, King's College London, specialised in falls prevention for the internationally renowned course. She was one among only 30 participants nationally and one of just two from outside the NHS.
Ms Rees, who is a clinal manager at Colten Care Ltd, won the merit for a project based at two of the group's homes; this involved redesigning how they assess and manage the risk of residents falling.
The homes that participated in the scheme were Braemar Lodge in Salisbury and specialist dementia care home, The Aldbury, in Poole, with falls in Braemar Lodge declining by a third.
Jackie Cash, clinical lead at Braemar Lodge, said: "We were already proactive about falls management, but Lindsay's input has helped engage all our staff more directly."
Home manager Alison Bremner added: "The resources are very visual. Having done supervisions using them with both day and night staff, I am confident our nurses feel more empowered in looking for correlations between falls and deciding on interventions and what is needed to ensure safety."
As part of the pilot scheme, Ms Rees ran a review to identify best practice, and then responded with an individual falls risk factor assessment and care plan. This was supported by staff, who, as a direct result of their involvement in the scheme, began to better understand the causes of falls, responding with the introduction of measures to reduce the risk of further falls.
Ms Rees said of the experience: "Reducing the number of falls in care homes benefits residents' quality of life and avoids hospital admissions.
"I feel really honoured to have had the opportunity to research this specialism on the fellowship course and put the findings directly into action for the benefit of our residents. Colleagues at both our pilot homes have been totally engaged and responsive."
A nursing graduate of Southampton General Hospital, Ms Rees currently has strategic responsibilities for the clinical care of over 1,000 residents in her role at Colten.
Her findings on falls management were presented to the Health Education England Patient Advisory Forum, and she also delivered a presentation at a House of Lords reception hosted by ageing and dementia specialist, Baroness Sally Greengross OBE.
The success of the pilot scheme has let to Colten Care Homes rolling out the falls prevention scheme across all 20 of their homes.
Colten Care operations director Elaine Farrer said: "We are proud to have supported Lindsay through this prestigious programme as part of our overall commitment to clinical excellence.
"Ongoing personal development of team members, including the opportunity to take part in up-to-date learning and research, helps ensure our residents receive the best care possible."
The King's College fellowship is run by older people's health experts at its Florence Nightingale Faculty of Nursing & Midwifery.